Animal Crossing: New Leaf
Jump to navigation
Jump to search
Animal Crossing: New Leaf[nb 1] is a simulation game for the Nintendo 3DS. It is the fourth main installment in the Animal Crossing series outside of Japan.
While retaining much of the gameplay from older titles, Animal Crossing: New Leaf marks a large change in the series, as the player now becomes the mayor of the town. With the help of Isabelle and the townsfolk, it is now the player's job to make the town a better place to live. Due to this new role, the game's name is most likely derived from the metaphor "turning over a new leaf", meaning to change a person's job/life, since the player is suddenly assigned the new role of mayor. Coincidentally, the player taking over as mayor was referenced in previous games where, on April Fool's Day, Tortimer would prank the player by saying he is soon going to retire and let the player serve as mayor. These jokes may have played a major role in deciding to finally make this a reality in New Leaf. Like with other Nintendo 3DS titles, the game can be bought from a store or from the eShop. The digital version requires 6,002 blocks of free space on the SD Card to be downloaded.
New Leaf also has a change of art style, with the players and the villagers having more human-like proportions, rather than the shorter ones seen in previous games, as well as the trees, flowers, and houses taking on a more realistic appearance.
Development and unveiling[edit]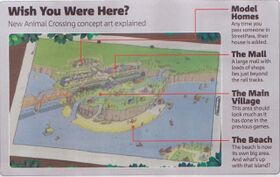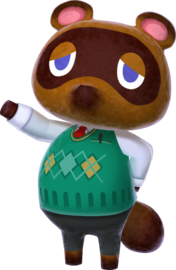 The game was originally unveiled at E3 2010, though very little was shown. A trailer was shown that gave information on updated features and revealed very few new features. Shortly after, there was news that the player could be the mayor of the town,[6] with the goal being to make the town a better place to live.[7] A non-playable demo was also available on the show floor at Nintendo's booth as an example of the 3DS's 3D effects. Due to it not being given much detail, fans speculated that it might have not been an actual game, but just an example and that another Animal Crossing game would be developed later.
At E3 2011, the rumors were proven false. During Nintendo's press conference, the Animal Crossing logo, among others, appeared on-screen as a list of upcoming 3DS games. Additionally, a new trailer was released. The trailer showed off a new feature in the game: swimming and diving in the sea. Also, a player was shown changing not only his shirt, but also his shoes and pants. A player was also shown coming out of what appeared to be his tent-house. Throughout the town, benches and a beehive were shown, with a villager and later a player sitting on the bench. A new character was also shown, a yellow dog following the player. Fans quickly assumed she was the 'eager secretary' that helps the player mayor the town.[8]
In an interview with Kotaku editor Stephen Totilo, the creator of Animal Crossing, Katsuya Eguchi, revealed that Animal Crossing 3DS will allow players to arrange their furniture in any way they like, and will also feature new networking experiences.[9]
The game's title, Animal Crossing: New Leaf, was confirmed at the Nintendo World Report on April 21, 2012.
Reggie Fils-Aime confirmed Animal Crossing: New Leaf is still in development on Monday June 11, 2012 for 3DS.
In the June direct conference it was confirmed that 4 people can live in the same village like the last 3 games. On another note, in Animal Crossing: New Leaf, they will reintroduce the train and Porter.
In early October, an Animal Crossing: New Leaf 3DS XL bundle was announced in Japan for when the game releases. In addition, another Japanese Nintendo Direct episode regarding Animal Crossing was scheduled for Friday, October 5. During the 47 minute video, highlights included K.K. Slider now performing as a DJ at a comedy club known as Club LOL, customized road designs, megaphones for getting villagers' attention, diving for coral, new multiplayer games hosted on islands, meeting other players through the 3DS's StreetPass feature, and more.
In early 2013, to promote the new game, Nintendo launched an official Animal Crossing: New Leaf website, containing information and trailers regarding the game.
Nintendo later announced in April 2013 that the Animal Crossing: New Leaf 3DS XL bundle would also be released in North America and Europe, which includes a copy of New Leaf on its SD card at a total price of $219.99.
Prior to the release date in the United Kingdom, players could pre-order New Leaf from GAME and get a free Isabelle and Town Hall figurine.
Welcome amiibo update[edit]

This article or section contains information about game updates.
The
last updates
to this article may not reflect the most current or accurate information about the game.

This article or section contains information about game updates.
The
last updates
to this article may not reflect the most current or accurate information about the game.

In 2016, four years after the game's original release in Japan, Nintendo announced a free major content update for New Leaf called Welcome amiibo to be released worldwide in November 2016.
Welcome amiibo introduces amiibo compatibility to the game. Players can summon Wisp, who will prompt them to scan a character's amiibo to make him to transform into them. Villagers who are summoned can be invited to move into town, and scanning special characters induces as-yet-unknown functionality. 50 villagers from Animal Crossing and Doubutsu no Mori e+ who are absent in later entries return to the series with this update. They live in mobile homes found in a new RV park location, the Campground, managed by a new special character, Harvey. Scanning their amiibo will cause them to set up camp in the park, from where they can be invited to move into the town. Players can also buy furniture items from the RVs, using a new currency known as MEOW Coupons
Other amiibo series are compatible, and scanning them introduces exclusive characters and items. For example, Splatoon amiibo will bring squirrel villagers based on Callie and Marie into the game, as well a series of Splatoon-themed furniture and clothing items.
Players will also be able place villagers into photographs they take with their console's camera.[10] The update also includes new items, many of which were introduced in Animal Crossing: Happy Home Designer.[11] The player can also connect with their Happy Home Designer data if they own the game, which unlocks more new giant furniture.
The update also includes two new minigames, being Animal Crossing: Puzzle League and Desert Island Escape. These can be played by activating a New Nintendo 3DS/New Nintendo 3DS XL or a Wii U piece of furniture, respectively.
The update is available digitally from the Nintendo eShop, and as part of a physical bundle with new Animal Crossing amiibo.
Gameplay[edit]
Gameplay in New Leaf follows the same pattern as previous games in the series, though with a greater diversity in activities, characters, venues, and more.
Role as the mayor[edit]
Unlike the last few installments in the series, where the player became a resident of their town, the player is now the mayor of the town (which in the previous games was Tortimer). While the player is still able to relax and engage in activities such as fishing and bug catching, they now have the responsibility of regulating the town and improving it. The player can build new features for the town, such as bridges, statues, or shrubs. They also can alter store prices and hours. Only the first player to start up the game is the mayor.
Tortimer Island[edit]
The tropical island from Animal Crossing returns in New Leaf as Tortimer Island, which can be accessed from the dock after certain conditions have been met. Kapp'n can take up to four players to the island on his motorboat for 1,000 Bells, and the location is accessible to Wi-Fi visitors. No items can be taken to Tortimer Island, and all items in every players' pockets will kept in storage until they return. On Tortimer Island, players can participate in a variety of 38 minigames, called tours, hosted by Tortimer himself. Winning these tours wins the player medals which can be used to buy exclusive items at the island's shop including Wet Suits. The items collected on and around the island must be put in a box near the entrance. The box has room for 40 items and all items in the player's inventory when they leave will be sold for a cheaper price than Re-Tail- except for rented tools and equipment, which will automatically be collected before the player leaves. Rented tools include the axe, shovel, net, fishing rod and wet suit.
Villagers[edit]
Many villagers from the previous games make their reappearance, in addition to a number of new ones. The number of villagers able to live in each town is regularly 9 but setting up a Campsite and convincing the villager inside the Campsite to move into town can make a total of ten. New species of villagers have also been introduced, including the hamster and the deer. Two new personality types, smug and big sister, have been added to the game in addition to the returning six, making for a total of eight different possible personalities. Each personality now has their own pitch of Animalese, unlike previous games where the voices only differed by gender (with the exception of cranky villagers).
Other new features[edit]
New Leaf introduces many other new features for the Animal Crossing series, some of the most notable being:
New insects (Cicada Shell, Giant Cicada, Hermit Crab, House Centipede, Rice Grasshopper, Stinkbug, Tiger Beetle and Wharf Roach) and fish (Blowfish, Giant Trevally, Mitten Crab, Nibble Fish, Oarfish, Ribbon Eel, Saddled Bichir, Saw Shark, Soft-Shelled Turtle, Tadpole and Whale Shark) have been introduced.
New fossils have been introduced (Archelon, Diplodocus, Megacerops, and Spinosaurus).
New fruits have been added to the game (Bananas, Durians, Lemons, Lychees, Mangoes, and Persimmons).
Two new personality types, big sister and smug, have been introduced.
The player can now customize their pants, shoes, and socks, reflecting the taller character designs seen in the game's art style. These items can also be removed. Additionally, players can wear clothes of any gender.
Each personality now has their own pitch of Animalese, before the variants were limited to male, female, and cranky male. The pitch of normal and lazy villagers sound very similar to the generic male and female voices in previous games. Peppy villagers sound like normal villagers, but are a bit higher-pitched. Likewise, jock villagers sound like lazy villagers, but are a bit higher-pitched. Snooty villagers use the voice that was once reserved for Joan. Cranky villagers sound like they've always been. Smug villagers use the voice that was once reserved for Farley. Big sister (Uchi) villagers sound like snooty villagers, but are a bit higher-pitched.
The player can now pick the town layout while on the train when the game starts, rather than be assigned a random map.
House exteriors can now be customized to reflect various styles.
Certain pieces of furniture can now be placed onto walls.
The player can now go swimming in the sea and dive for sea creatures, a new type of collectible.
Several new villagers, and special characters are introduced, as are several new species, such as hamsters, deer, and alpacas.
Flowers now drip with water once they have the watering can used on them, allowing the player to know whether they've watered it or not. After this, the flowers that have been watered start to shine.
A new tool, the Megaphone, can be used to get a villager's attention and location by saying their name into the system's microphone.
Certain pieces of furniture are now customizable using various colors and designs at Re-Tail by Cyrus the alpaca.
The player can communicate with another player even if they are in a different town.
New multiplayer games are hosted on islands accessible by boat. Medals are awarded to winners of mini-games hosted by Tortimer, which can be traded for prizes.
Villagers are now more active in the town environment, being capable of fishing, shaking trees, entering buildings, and so on.
The player can now choose where they want their house.
New buildings[edit]
New Leaf features a new Main Street, a shopping district located to the north of every player's town. It is similar to Animal Crossing: City Folk's City. The shopping district features a wide array of shops and venues, many of which are new to the series:
Timmy and Tommy's store - Formerly run by Tom Nook in previous games, Timmy and Tommy now run the general store in New Leaf It goes through 5 stages: Nookling Junction, T&T Mart, Super T&T, T.I.Y and T&T Emporium
Able Sisters - The Able Sisters offer clothing as in past games, in addition to now offering the ability to share and obtain created patterns through QR codes.

Labelle also returns, and is connected to the Able Sisters selling hats, umbrellas, and other accessories.

Post Office - The postal service returns as an independent building on Main Street.
Nook's Homes - A building where players can alter the appearance of their home and buy a variety of designs and decorative objects from Tom Nook. In previous games he would let players alter their home in his shop.

After activating the Happy Home showcase players can also view their scores by talking to the now present Lyle.

Kicks - A shop that now sells shoes and socks, run by Kicks, a minor character who first appeared in Animal Crossing: City Folk.
Garden Shop - A shop that sells flower seeds and tree saplings, run by a sloth named Leif. In T.I.Y and T&T Emporium the Garden Shop is attached or inside the store.
Shampoodle - Located upstairs to the Able Sisters, offering hair and eye color styling. Like previous games, the store is once again run by Harriet.
Museum - Blathers continues to run the town's museum, which now offers a wider range of fossils and fish to exhibit, an exhibition room, and a museum shop that is run by Celeste.

The art section now also includes statues and other works besides paintings.

Club LOL - A club run by K.K. Slider and Dr. Shrunk. K.K Slider works daily as a DJ, while still holding traditional performances on Saturday nights.
Photo Booth - A booth that allows the player to take a picture for their Town Pass Card.
Dream Suite - Run by Luna, allowing players to visit other towns by inputting that town's dream address. The visit is set in a dream world, so no alterations can be made to that town.

Also no items can be taken except for patterns if the mayor of the town authorizes it. To get the patterns look around town for Wendell the walrus.

Happy Home Showcase - A showcase that stores houses of other players who have exchanged data via StreetPass. The homes may be viewed, and furniture from the houses can be ordered for purchase.
Fortune Shop - After receiving 20 fortunes from Katrina during her visits, she will open a permanent Fortune Shop.
Other buildings found in the town include:
Release and Reception[edit]
New Leaf received generally positive reviews and ratings upon release. Its visuals were a key point for praise, with the 3D features well-commended. The more in-depth gameplay and details offered from previous Animal Crossing games were also viewed positively, along with the presence of enough new content to keep the game exciting.
Ratings include:
In Japan, the game sold over 600,000 copies in its first week,[16] and went on to become the top-selling Nintendo 3DS game in the country at over 2 million units. Worldwide, New Leaf has sold over 12.82 million units as of September 30, 2020.[17]
Gallery[edit]
Pre-release elements[edit]
Animal Crossing: New Leaf has several concept artwork that can resemble or vary wildly from the released design.
In Donkey Kong Country: Tropical Freeze, one of Donkey Kong's idle animations is pulling out a blue 3DS XL. Sound effects from Animal Crossing: New Leaf, one of the four games, are heard.
Unlike Animal Crossing: City Folk, New Leaf does not have separate American and European localizations for French and Spanish, instead opting to release their European localizations for both regions. As a result, Animal Crossing characters are referred to by their European names for a language instead of their American names used in City Folk, which were the same as in English for both languages. This name change affected the franchise's marketing for Quebec and Latin America, as well as other titles that did receive separate American and European localizations, such as the spin-off titles and Animal Crossing: New Horizons.
Names in other languages[edit]
とびだせ どうぶつの森
Tobidase Dōbutsu no Mori
Animal Forest: Jump Out

---

튀어나와요 동물의 숲
Twieonawayo Dongmul-ui Sup
Animal Forest: Jump Out

---

Animal Crossing: New Leaf
-

---

Animal Crossing: New Leaf
-

---

Animal Crossing: New Leaf
-

---

Animal Crossing: New Leaf
-
External links[edit]
References[edit]