Animal Crossing (series)
From Nookipedia, the Animal Crossing wiki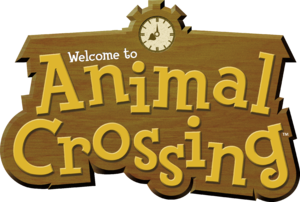 This article is about the series. For the game of the same name, see Animal Crossing.
Animal Crossing[nb 1] is a series of social simulation video games developed by Nintendo and created by Katsuya Eguchi and Hisashi Nogami. The series revolves around a human player character living in a town inhabited by animals and performing tasks such as fishing, catching bugs, socializing with the villagers, or collecting items. Animal Crossing is open-ended and uses the system's internal clock to simulate taking place in real-time, with the gameplay changing based on the time of day and year.
Gameplay[edit]
Objectives[edit]
As an open-ended life simulation game, the Animal Crossing series does not have a set objective. As such, after an introductory sequence at the beginning of the games, players are free to do as they like. The only 'objective' in the game, if any, is to pay off the mortgage placed upon the player's house—but, like most activities within the game, this is entirely optional and does not incur any consequences, other than having less space to store items.
Villagers[edit]
In every town in the Animal Crossing series, the village itself is populated entirely by animals (excluding the player, who is the only human shown in the entire series). Villagers are anthropomorphic, and as such, can speak, walk in a humanoid manner, use tools, and wear clothes. They serve as interactive characters who are assigned personalities and traits, and this affects the way they communicate with you and among themselves. Villagers are capable of conversation, have unique interests and catchphrases, and live in their own domains within the town.
Villagers will often ask the player to perform tasks for them (ranging from delivering presents to sending messages to another human player). Players can incur a reward if tasks are executed in the set time. In later games, they are also capable of playing games with the player, such as hide-and-seek. Villagers move in and out of the town regularly due to certain factors (e.g. because the player has exchanged animals with another village over Wi-Fi), or simply because they are not satisfied with their current life). It is said that they enjoy receiving letters, and if sent a gift, they will usually send one in return.
Customization[edit]
Although earlier games offer few options in terms of customization, more recent games like Animal Crossing: New Horizons feature the ability to not only customize the appearance of the player, but also more designing options in term of interior and exterior. Interior designing aspects include wallpapers, flooring, rugs, lighting, soundscapes, and furniture in the player's home, as well as the home's exterior changes. Exterior designing aspects include the placement of either furniture, public works projects, bridges, or incline depending on the game, as well as the changes made to the town's flora and landscaping via the Island Designer Construction Permit.
Activities[edit]
Despite being an open-ended game, Animal Crossing does provide some activities to pass the time and help "complete" certain aspects of the gameplay (such as completing exhibits within the Museum). Some of these activities include bug-catching, fishing, fossil-hunting, and even item-collecting (the latter an objective to complete the player's catalog). Players can also interact in games of hide-and-seek with villagers, participate in festivals and town events, and generally do as they like within the game.
Mainline series[edit]
Boxart
Title
Platforms and release dates
Information

Doubutsu no Mori[nb 2]
Nintendo 64
April 14, 2001

The first game in the series, originally released on the Nintendo 64 in Japan. The game was later released in China for the iQue Player.
iQue Player
June 1, 2006[1]

Animal Crossing[nb 3]
Nintendo GameCube
December 14, 2001
September 16, 2002
October 17, 2003
September 24, 2004
Originally released in Japan as a Nintendo GameCube port of the original game on Nintendo 64. The port was localized internationally as Animal Crossing, the first game to be released in the west, and changed numerous aesthetic and gameplay elements from the original Japanese version, as well as adding new regional events.

Doubutsu no Mori e+[nb 4]
Nintendo GameCube
June 27, 2003
A re-localization of the international Animal Crossing for Japan, Doubutsu no Mori e+ featured additional changes and updates, including new villagers, critters, and enhanced e-Reader support. Released exclusively in Japan.

Animal Crossing: Wild World[nb 5]
Nintendo DS
November 23, 2005
December 5, 2005
December 8, 2005
March 31, 2006
December 6, 2007
The first game released on a handheld console and the first to be released worldwide, Wild World featured changes to villager interactions, a story-based missions system, and emphasis on player customization. Wild World also trimmed out villagers and events, many not returning until future games. Wild World was also the first to feature online multiplayer (via Nintendo Wi-Fi Connection). Wild World outsold its predecessor with 11.75 million copies sold to become the best-selling Animal Crossing game until New Leaf.[2]
Wii U (Virtual Console)
November 19, 2015
November 19, 2015
July 27, 2016
October 13, 2016

Animal Crossing: City Folk[nb 6]
Wii
November 16, 2008
November 17, 2008
December 4, 2008
December 5, 2008
January 28, 2010
City Folk includes new and changed features, most notable the addition of the city. Many villagers and events cut from Wild World return, with new events including Festivale and Bunny Day, as well as additional regional holidays. Some copies of the game were also bundled with Wii Speak.

Animal Crossing: New Leaf[nb 7]
Nintendo 3DS
November 8, 2012
February 8, 2013
June 9, 2013
June 14, 2013
June 15, 2013
New Leaf brought significant changes to the Animal Crossing series, with the gameplay placing a huge emphasis on the player's role as mayor of their town. New Leaf added two new villager personalities, smug and big sister, with several villagers having their personality realigned. New Leaf also featured a new shopping district known as Main Street, additional special characters including Isabelle, the ability to share and visit towns by dreaming and Tortimer Island, where players can chose to play out minigames and collect exotic goods. New Leaf sold 12.82 million copies, outselling Wild World to become the highest-selling Animal Crossing game until New Horizons.[3]

Animal Crossing: New Leaf - Welcome amiibo[nb 8]
Nintendo 3DS
November 23, 2016
November 24, 2016
November 25, 2016
December 1, 2016
December 8, 2016
An expansion update for New Leaf, Welcome amiibo brought back villagers cut since Doubutsu no Mori e+, introduced an area known as the campground, and added amiibo functionality. The expansion also included crossover villagers with the likes of Zelda, Splatoon, Sanrio, and Monster Hunter. Welcome amiibo was released as a standalone updated version of the game.

Animal Crossing: New Horizons[nb 9]
Nintendo Switch
March 20, 2020
The first main Animal Crossing series game to be in high-definition, New Horizons features the player living on a deserted island hosted by Nook Inc., and they are given the task to promote the island and gain the attention of K.K. Slider. New Horizons introduces the ability to craft items, allowing the player to craft furniture and tools alongside special goods such as Fish Bait to catch fish. Additional features in New Horizons include the ability to place furniture outside, a new application to modify cliffs, water, and paths, changes to villager interactions and personalities, a Ladder and Vaulting Pole for easier navigation, and the ability to host multiplayer sessions without relying on friend lists. New Horizons gained notoriety in the midst of the COVID-19 pandemic, and it has sold 31.18 million copies, eclipsing New Leaf to become the best-selling Animal Crossing game.[4] New Horizons continues to receive regular updates that add new features as well as modify content.

Animal Crossing: New Horizons – Happy Home Paradise[nb 10]
Nintendo Switch
November 5, 2021
A paid downloadable expansion for New Horizons, and successor to the Nintendo 3DS spin-off game Animal Crossing: Happy Home Designer. The player can travel to an archipelago resort to design vacation homes for characters, with newly introduced items and abilities able to be taken back to the player's home island. The expansion is available for individual purchase from the Nintendo eShop, or can be played as part of a Nintendo Switch Online + Expansion Pass subscription.
Spin-off titles[edit]
Other media[edit]
Various media based on the Animal Crossing video games has been released, including soundtracks, manga series, and a feature-length film.
Soundtracks[edit]
Gallery[edit]
Artwork[edit]
The following artwork is not known to have been used to promote any specific game and is instead used to promote the series as a whole.
References[edit]
External links[edit]

To-do list: This page could do with some improvements!
Edit this page
and add a little something to make it just right.
Expand intro, add a reception section, and add a short paragraph on each game, expand gameplay sections, touch on the creation of the series, etc.

To-do list: This page could do with some improvements!
Edit this page
and add a little something to make it just right.
Expand intro, add a reception section, and add a short paragraph on each game, expand gameplay sections, touch on the creation of the series, etc.

This article needs to be rewritten.

This article needs to be rewritten.