Bruce
Jump to navigation
Jump to search
This article is about the deer villager. For the villager whose French name is the same as this villager's English name, see Hank.

Bruce
 

| | | |
| --- | --- | --- |
|  ブルース |  브루스 |  布鹿斯 |
|  Boubou |  Arturo |  Aristo |
|  Oswald |  Bruce |  Брюс |

Birthday
May 26th
Phrase
gruff

More languages
 しかしな (shikashi na)
 아비옹
 福鹿寿
 福鹿壽
 nunul
 uauwaii
 aquesí
 röööhr
 burl
 забияка

Clothes
After-School Jacket
Saying
Nobody's perfect.
Main Games
Other Games

Bruce is a cranky deer villager in the Animal Crossing series who debuted on Animal Crossing: New Leaf. His catchphrase is probably a reference to the fairy tale, "The Three Billy Goats Gruff", and is also the name of another cranky villager. The name "Bruce" may be derived from "bruise", a type of injury, which may reference the "tough" nature of cranky villagers. His name could also be a reference to the original Norwegian name of the goats in The Three Billy Goats Gruff, which is Bruse.
Characteristics
Appearance
Bruce is blue with dark blue highlights around his eyes, his ears, arms and legs, as well as having two stripes of dark blue in between his antlers. His antlers are striped cream and brown. His ears appear to be orange, and he has midnight blue hooves.
Personality
Below is a brief description of the cranky personality. For more information, click here.
Bruce is a cranky villager, meaning he is mature, bitter and adult-like. He appears somewhat rude at first, but is very reliable and friendlier when befriended. He gets along well with most snooty and lazy villagers and other cranky neighbors, but will sometimes offend smug and peppy villagers unintentionally, as he does not clearly understand their lifestyle. Bruce has a harsh sense of humor, but is very hospitable and kinder once the player enters his home.
Preferences
In New Leaf
Picture
"Nobody's perfect."
Biography
Siblings
Eldest of 3 Kids
Skill
Trivia
Goal
Pro Golfer
Fear
Insect Mask
Favorites
Clothing
Rock 'n' Roll
Cute
Color
Blue
Coffee
Type
Blue Mountain
Milk
None at all
Sugar
None at all
Ideal Gifts for Bruce – Blue Rock 'n' Roll
In New Horizons
Ideal Gifts for Bruce – Black / Red Simple and Cool Items
House
In New Leaf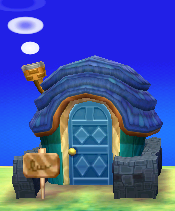 | | |
| --- | --- |
| Style: | No style |
| Items: | |
| Wallpaper: |  Urban Wall |
| Flooring: |  Hopscotch Floor |
| Music: | [[K.K. Blues]] |
In New Horizons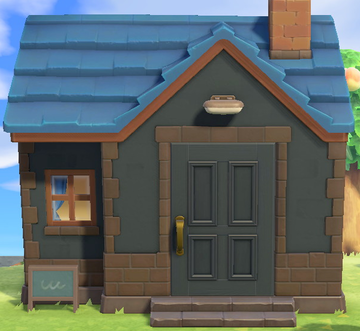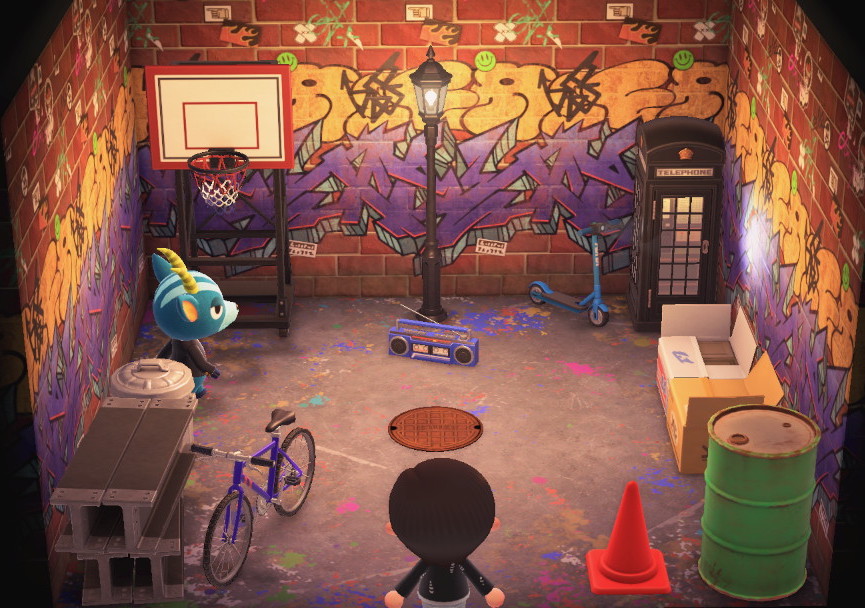 | | |
| --- | --- |
| Style: | No style |
| Items: | |
| Wallpaper: |  Street-Art Wall |
| Flooring: |  Paintball Flooring |
| Music: | [[K.K. Blues]] |
Other appearances
In Pocket Camp
Animal Crossing: Pocket Camp Character Info

Needed to Invite:

  This villager can be unlocked through Blathers's Treasure Trek.

Friendship Rewards:


After-School Jacket
and Sparkle Stone


Sparkle Stone


Mahjong Table
Craft Unlock
Level 7
Level 9
Level 15


Pic of Bruce‎‎
and Sparkle Stone


Sparkle Stone


Sparkle Stone

Level 20
Level 25
Level 30

| | | |
| --- | --- | --- |
| Sparkle Stone | Sparkle Stone | Sparkle Stone |
| Level 35 | Level 40 | Level 45 |

Bruce


Bruce doesn't like to beat around the bush. In fact, he's not too fond of shrubbery in general.
 Preferred theme:
 Primary reward:
 Steel
Card profiles
Animal Crossing amiibo Card
Animal Crossing amiibo card

Card back

#389 Bruce - Series 4

| | |
| --- | --- |
| Type: | Deer |
| Star sign: | Gemini |
| Birthday: | May 26th |
| Dice value: | 5 |
| Hand sign: | Rock |
Gallery
Artwork
Sprites & Models
Names in other languages
ブルース
Burūsu
Bruce

---

브루스
Beuruseu
From Japanese name

---

Брюс
Bryus
From English/Japanese name

---

Bruce
Same as English/Japanese name

---

Oswald
-

---

Aristo
-

---

Boubou
-

---

Arturo
Arthur