Bug-Off
From Nookipedia, the Animal Crossing wiki
| | | |
| --- | --- | --- |
| | Bug-Off |   |


Flick in the event plaza in New Horizons

Northern Hemisphere months
Jan
Feb
Mar
Apr
May
Jun
Jul
Aug
Sep
Oct
Nov
Dec
Southern Hemisphere months
Jan
Feb
Mar
Apr
May
Jun
Jul
Aug
Sep
Oct
Nov
Dec
Occurrence
Varies between games (see recurrence)
Music (New Horizons)
https://nookipedia.com/wiki/File:NH_Tournament_Day.flac
Time
Competition
12 PM – 6 PM[nb 1]
9 AM – 6 PM[nb 2]
Awards Ceremony
6 PM – 9 PM[nb 3]
Host
Tortimer[nb 4]
Nat[nb 5]
Flick[nb 6]
Main appearances
Other appearances

Names in other languages

 ムシとりたいかい大会
 捕虫大赛
 Insectosafari
 Caza de Bichos
 Insettomania
 Турнир «Мастер сачка»

 곤충채집대회
 捕蟲大會
 Insectosafari
 Caza de Insectos
 Insektikus-Turnier
 Beestjesbeker
The Bug-Off is a bug catching competition in the Animal Crossing series that is held during the summer, in the months of June, July, August, and September. Prior to Animal Crossing: New Horizons, the Bug-Off is hosted by Nat, except in Animal Crossing: Wild World, where it is hosted by the mayor, Tortimer. In New Horizons, the event is now hosted by Flick, who also appears as a regular visitor. The event runs from 12 PM to 6 PM in Wild World, and 9 AM to 6 PM in City Folk, New Leaf, and New Horizons.
Appearances[edit]
Prior to New Horizons[edit]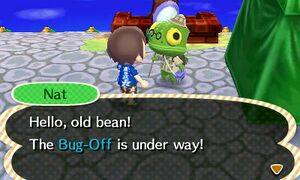 Each entry is rated in points according to size (small, average, big), rarity and luster (dull, average, impressive) - which makes it random to determine what insects will be rated highly, but more common insects tend to be overall lower rated than rarer ones. In Animal Crossing: Wild World, bugs are rated by size only, meaning the same species of insect may be able to overwrite an already existing entry.
During the day of the competition, each time a player gives a bug that achieves a new high score, they receive a gift from Nat (Tortimer in Wild World). In Animal Crossing: New Leaf, players will receive an item from the Insect Set if they hand over a record-breaking bug worth at least 80 points. At the end of the competition, the winner of the Bug-Off receives a mention on the bulletin board as well as a bronze, silver, or gold trophy through the mail for reaching third, second, and first place respectively. There are no trophies for second place in Wild World and City Folk.
In Animal Crossing: New Leaf, there is an awards ceremony where trophies are presented to the top three participants. It occurs in Nat's tent between 6 PM and 9 PM, and trophies will be mailed instead if the player does not show up between those times.
The Bug-Off is the bug counterpart to the Fishing Tourney, which runs during the other eight months of the year. The Bug-Off is different to the Fishing Tourney, since there is only one type of competition - bugs are caught according the color, rarity, luster and size only, unlike the Tourney which has two competitions: size and type.
In New Horizons[edit]
In Animal Crossing: New Horizons, the Bug-Off is hosted by Flick instead of Nat. Players are tasked with catching as many bugs as possible within three minutes. The player can participate as many times as they choose until the event ends at 6:00 PM; however, every entry after the first costs

 500 Bells. While the timer is active, a generic message is displayed whenever a bug is caught as opposed to the player's normal catch quote, and the "Yes!" message that normally displays for a first-time catch will not be displayed either. Any Nets used will not break during the tourney, but they still sustain damage, and will break after the timer is up if their durability runs out during a round.
Any bugs the player catches are sent to a bug cage in the plaza rather than their pockets. After scoring, the player can sell the cage's contents to Flick for 1.5 times the sell price at Nook's Cranny, and they are required to do so before they may participate again or swap their points for items. To keep any caught bugs, the player must select the bug from the bug cage before bulk-selling.
During the Bug-Off, villagers are seen trying to catch bugs with Nets (although they cannot actually catch them), and they will only talk about the event, meaning no items can be received or given, and no favors or Reactions can be received. Villagers who are in their houses will converse as usual, except in some cases they may remind the player about the Bug-Off when talked to, and then mention why they're not participating themselves.
Scoring[edit]
Players receive points based on the number of bugs caught, regardless of their rarity.
1 point per bug
2 bonus points if three or more bugs were caught
Multiplayer[edit]
There are additional benefits for participating in the Bug-Off during local or online multiplayer. During multiplayer, the 500 Bell entry fee is waived for all participants. In addition, there is a cooperative bonus: if 5 - 9 bugs are caught between the players, all players will earn 5 bonus points each (regardless of the number of bugs caught individually). If the total amount of bugs caught is between 10 and 14, all players will receive 7 points bonus. The highest possible bonus is 10 points, when total amount of bugs caught is 15 or more.
To begin a Bug-Off, only one player needs to ask Flick to start the timer. The timer will begin for everyone without prior warning, meaning that other players must prepare their nets and find the nearest bug close to them to catch. A Bug-Off can also only be started after everyone has cleared their cages (whether by selling to Flick or manually removing the bugs from it).
Players can join or leave the island during the Bug-Off, but the timer will not pause. If connection is lost and/or the island state is reset, it is possible for everyone to lose their catching progress.
Rewards[edit]
After obtaining 10 or more points, players can exchange their points for a "bug relic." The 13 possible items are distributed in a random order, after which the player will start receiving duplicate items. In addition, if the player obtains 100, 200, or 300 points over the course of the day, Flick will mail them a corresponding trophy (bronze, silver, or gold). This total is cumulative; points that have been traded in for relics still contribute to the total.
Although the tourney ends at 6:00 PM, Flick will remain in the plaza until 8:00 PM, so points can still be exchanged for rewards until he leaves. After he has left, the bug cage remains in the plaza for the rest of the night, in case the player still needs to retrieve their bugs from there.
Bug-Off items in Animal Crossing: New Horizons
Includes data sourced from this Item Spreadsheet, compiled by 6480, noizhub, Ricky, chaiinchomp, saberslime, robotic_scarab, mollumisc, sunmarsh, kyrokey, obstinateRixatrix, jackiwi, Zalex, SuperHamster, kait, hyuum, Azarro, Czarcasm, cinnamon_swirlix, astronomyfortwo, Welcius, glowtopia, BriKun, Alyrei, dodocodes.com, StevieCoops, sneeze, Shiny190, TwistedPeach, LavaToaster, capstone, vmario, rocklamp, Alexis, Aeon, and PanchamBro.
Recurrence[edit]
Game
Recurrence
This year
Next year
2022
2023
Wild World
Jun 19, Jul 17
Aug 21, Sep 18
Jun 18, Jul 16
Aug 20, Sep 17
City Folk
Jun 18, Jul 16
Aug 20, Sep 17
Jun 17, Jul 15
Aug 19, Sep 16
New Leaf
Jun 18, Jul 16
Aug 20, Sep 17
Jun 17, Jul 15
Aug 19, Sep 16
New Horizons
Northern:
Jun 25, Jul 23
Aug 27, Sep 24


Southern:
Jan 15, Feb 19
Nov 19, Dec 17

Northern:
Jun 24, Jul 22
Aug 26, Sep 23


Southern:
Jan 21, Feb 18
Nov 18, Dec 16
Gallery[edit]
City Folk[edit]
New Leaf[edit]
New Horizons[edit]
A dialogue error causes Flick to wrongly assume the following for the Bug-Off in the Southern Hemisphere:

The February Bug-Off has Flick asserting that the next Bug-Off (including bug season) will continue onto March, which is invalid given the internal coding of when the Bug-Off takes place.
The December Bug-Off has Flick declaring bug season to be over, despite the following month featuring many new bugs to catch, as well as another Bug-Off taking place.
Names in other languages[edit]
ムシとり大会
Mushi tori taikai
Moth tournament

---

곤충채집대회
gonchungchaejibdaehoe
Insect Competition

---



捕虫大赛 / 捕蟲大會
Bǔchóng dàsài
Insect Contest

---

Турнир «Мастер сачка»
Turnir «Master sachka»
"Master of the net" tourney

---

Beestjesbeker
Bug cup

---

Insektikus-Turnier
Insect tourney

---

Caza de Bichos
Bug Hunt

---

Caza de Insectos
Insect Hunt

---

Insectosafari
Insect Safari

---

Insettomania
-