Butterfly Fish
Jump to navigation
Jump to search
"I caught a butterfly fish! I didn't even have to use a net!" —City Folk
200x200px
Real-world info
Name: Forcipiger flavissimus
Family: Chaetodontidae - Butterflyfish
Main appearances
Other appearances
Name in other languages
 Unknown

 Unknown

 Unknown

 Unknown
 Unknown

 Unknown

 Unknown

 Unknown
 Unknown

 Unknown

 Unknown

 Unknown
The Butterflyfish is a small, yellow fish that appears in the ocean during April to September. It is uncommon. It can be found all day long. This fish will sell for 1,000 Bells, and must not be confused with the Sea Butterfly, which also sells for 1,000 Bells, but appears in winter. The Butterflyfish in new in Animal Crossing: City Folk.
Donating in City Folk
Upon donating the butterflyfish to the Museum, Blathers will say;
"This is a butterflyfish, but the truth is that there are over 100 varieties of this creature... They live in the oceans of the far south, and each variety has its own distinctive coloration. These fish are most often seen socializing in groups among stalks of coral. Rather chatty, wot?"
It can be found in the back tank with the other ocean fish.
City Folk
Size: About 7.2 in.
Habitat: Ocean
Season: Spring-Fall
These are said to use their bright colors to communicate with their peers.
Further information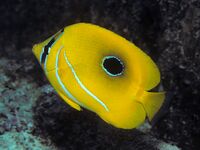 This butterflyfish is a Yellow Longnose Butterflyfish (Forcipiger longirostris). In the game, it does not have the long nose. There are many species of butterflyfish, some of which bear a resemblance to the barred knifejaw.