Cyrano
Jump to navigation
Jump to search
| | | |
| --- | --- | --- |
| [[File:AnteaterSpeciesIconSilhouette.png|30px|link=]] | Cyrano |   |



Species
Personality
Gender
[[Anteater|Anteater]]
[[Cranky]]
Male
Birthday
[[]] March 9
Quote
"Don't cut off your nose to spite your face.
Wish you were here!"
Catchphrase
"ah-CHOOO

* NA
ah-CHOO * NA
でごわす JP"

Clothing
[[Item: (New Horizons)|]]
Main appearances
Other appearances
Name in other languages


 Unknown
 Unknown
 Unknown
 Unknown

 Unknown
 Unknown
 Unknown
 Unknown

 Unknown
 Unknown
 Unknown
 Unknown

Phrase in other languages


 Unknown
 Unknown
 Unknown
 Unknown

 Unknown
 Unknown
 Unknown
 Unknown

 Unknown
 Unknown
 Unknown
 Unknown
Cyrano is a cranky anteater villager that appears in all games from the Animal Crossing series. He is named after Cyrano de Bergerac, a French dramatist and duelist known, among other things, for his large nose. Cyrano's portrait quote may be a reference to a statue of his namesake in Bergerac, Dordogne, a commune in southern France. His Japanese name likely refers to the Sakurajima volcano, perhaps relating to his "eruptive" temper as a cranky villager. He appeared in Doubutsu no Mori (film) as a minor character, being friends with Cesar, the gorilla.
Characteristics
Appearance

Cyrano is an indigo-colored anteater with a peach colored snout, face and paws. He has freckles on the bridge of his snout and has thick, black eyebrows, which are always lowered and slant inwards, giving the impression that he is glaring, which links with his cranky personality. The inside of his ears are pink.
Personality
Below is a brief description of the cranky personality. For more information, click here. As a cranky villager, Cyrano will appear mature compared to other personality types. This will make him appear belittling and insensitive to other villagers, including the player. Despite this, he will learn to confide in the player, considering them his only friend. He will enjoy the usual hobbies, but for relaxation and peace than competition. He will find it difficult to socialize with peppy villagers, who he will criticize when talking to other villagers. He will get along with lazy and snooty villagers, as well as other cranky villagers, who he will share deeper conversations with. He will, on occasion, annoy a normal villager, usually when being mean about something or someone.
Preferences
In Wild World
Ideal Clothing for Cyrano – Subtle
In City Folk
Favorites
Clothing
Subtle
Fancy
Furniture Genre
Trendy/Dignified
Furniture Series
Exotic
Furniture Color
Yellow
Ideal Furniture for Cyrano – Yellow Trendy/Dignified
In New Leaf
Picture
Don't cut off your nose to spite your face.
Biography
Siblings
Eldest of five
Skill
Whistling
Goal
Journalist
Fear
Bugs
Favorites
Clothing
Iconic
Modern
Color
Yellow
Coffee
Type
Kilimanjaro
Milk
A little bit
Sugar
One spoonful
Ideal Gifts for Cyrano – Yellow Iconic
House
In Animal Crossing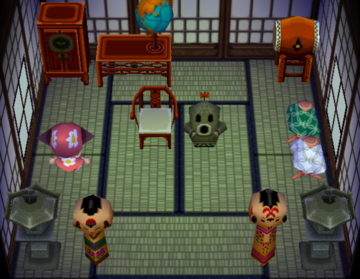 | | |
| --- | --- |
| Style: | Asian |
| Items: | Exotic Wardrobe, Globe, Exotic Table, Tall Lantern x2, Exotic Chair, Hibachi x2, Tokoma Drum, Oombloid |
| Wallpaper: |   |
| Floor: |  Tatami Matt |
| Music: | |
In Wild World and City Folk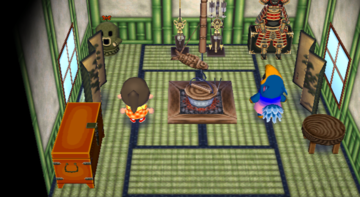 Style:
Asian
Items:
Oombloid, katana, bow, Samurai Armor, Screen x2, Hearth, Exotic Chest, Tea Table
Wallpaper:
 Bamboo Wall
Floor:
 Tatami Matt
Music:
[[K.K. Faire

*]]
In New Leaf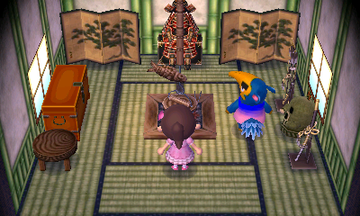 Style:
Asian
Items:
Oombloid, katana, bow, Samurai Armor, Screen x2, Hearth, Exotic Chest, Tea Table, Lantern
Wallpaper:
 Bamboo Wall
Floor:
 Tatami Matt
Music:
[[K.K. Faire

*]]
Other appearances
In Doubutsu no Mori (film)
Warning: This section contains spoilers. Click the show button to the right to display the spoilers.
Like most of the cast, Cyrano was given toes and fingers; Cyrano's fur color had also toned down quite a bit in the film.
Cyrano, along with his friend, Cesar, is a minor character in the movie, only appearing a total of five times in the movie. Busy with her deliveries, Ai goes to The Roost to deliver goods to Apollo. Once there, Ai, confused, asks if either of the two is Apollo, which sends the men in a laughing riot. After their short but loud laugh, Cyrano then whispers that Apollo was a tolerable guy until he decided to leave town. He later appears at the beach and the festival. Around the time when Sally moves, Yu and Halberd trap the two pals with pitfall seeds, leading them into a pitiful predicament. They, like everyone else, also showed up at the UFO crash. Over the course of the movie, except for the beach scene, Cyrano's outfit has stayed the same.
Card profiles
Animal Crossing-e card

Card back

#104 Cyrano - Series 2

Gender:
Male
Species:
Anteater
Clothes:
Wave Print
Sign:
Pisces
Phrase:
ah-CHOOO
Password:
mB3dUiqoQbq3a8
3CjYQ7GDQ%idax
Profile:

 
Cyrano's "well-defined" nose and stern eyebrows have all the girls swooning, but he's actually far more sensitive than his rugged good looks suggest. And he's not afraid to tell you that.
Animal Crossing amiibo card

Card back

#094 Cyrano - Series 1

| | |
| --- | --- |
| Type: | Anteater |
| Star sign: | Pisces |
| Birthday: | March 9 |
| Dice value: | 2 |
| Hand sign: | Paper |
Gallery
Artwork
Names in other languages