Dòngwù Sēnlín
From Nookipedia, the Animal Crossing wiki
Dòngwù Sēnlín[nb 1] is a port of Doubutsu no Mori released for the iQue Player in China. It was released on June 1, 2006, five years after the original Nintendo 64 version, and it was the last game released for the iQue Player.
Dòngwù Sēnlín features numerous localization changes to items, events, and textures.
Differences from Doubutsu no Mori
Gameplay
The typing interface is changed from the dial interface to a QWERTY keyboard, similar to the international versions of Animal Crossing.
Events
Visual
User interface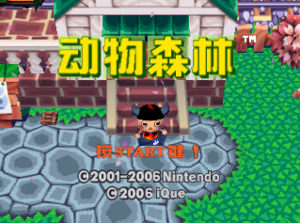 The Nintendo 64 logo animation played when booting up the game is replaced with the iQue Player logo.
The copyright text on the title screen now reads "©2001-2006 Nintendo" to reflect the game's release date in China, and text reading "©2006 iQue" was added below it.
The English "Press Start Button!" text on the title screen in Doubutsu no Mori is now partially in Chinese, reading "按START钮!".
All town names have 村 (village) appended to them.
Items
The sprite and icon for the Grab Bag are changed, likely to avoid confusion with the Japanese kanji on the bag.
The sprites and inventory icon for the carp were colored red.
Some of items villagers ask the player to deliver for a favor were changed.
Locations
The English "POST OFFICE" text on the entrance of the post office is now in Chinese, reading 邮政局 (post office).
Instances of the Japanese postal mark, 〒, have been replaced with a letter symbol.
The sign on the side of Nook's Cranny is now red with a black circle and text instead of white with a red circle and text. The sign has the fortune symbol 福 upside-down on a diagonal red square, a visual pun in Chinese to imply good luck.
The textures on Tom Nook's other stores have also been updated with Chinese characters.
The Japanese text on outdoor objects such as Redd's stall at the Fireworks Festival, Katrina's fortune table on New Year's Morning, and the Countdown clock have been changed to Chinese.
The textures in and around the Police Station are in Chinese.
The appearance of the shrine is different, now featuring different textures and missing the wooden extrusions from the roof and the bells from the front.
Items
The following items from Doubutsu no Mori are replaced with new items:
The designs of the following items are changed:
The Soccer Theme is added alongside the items that comprise it.
The following furniture sets are replaced alongside the items that comprise them:
Gallery
External links
Notes
References
↑ iQue. "iQue News". Archived from the original on October 28, 2007. Retrieved August 25, 2020. (Chinese)