Dungeness crab
From Nookipedia, the Animal Crossing wiki
| | | |
| --- | --- | --- |
| | Dungeness crab |   |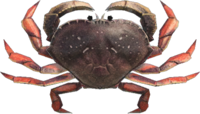 Real-world info
Name: Metacarcinus magister
Family: Cancridae
Main appearances
Other appearances
Names in other languages
 ダンジネスクラブ
 珍宝蟹
 Crabe de Dungeness
 Buey del Pacífico
 Granciporro
 Данженесский краб
 던지니스크랩
 首長黃道蟹
 Crabe de Dungeness
 Buey del Pacífico
 Pazifik-Taschenkrebs
 Dungeness-krab
The Dungeness crab is a sea creature in Animal Crossing: New Horizons introduced in the 1.3.0 Free Summer Update.
Catch details[edit]
In New Horizons[edit]
A Dungeness crab is the secret ingredient in the gratin dish on Turkey Day.
Time of year
North: Nov – May
South: May – Nov
Time of day
All day
Shadow size
Medium
Shadow movement
Medium
Spawn requirement
Catch 20 total sea creatures
Selling price
 1,900 Bells
Furniture size
Donating to the museum[edit]
In New Horizons[edit]
"The Dungeness crab wears a pretty fan-shaped shell that's often done up in purple hues. But eye-catching colors aside, this fellow can be surprisingly hard to spot! That's because the Dungeness crab is something of an expert hider. When scared, it plays a nifty trick! That is, it buries itself beneath the sand with impressive speed. "Now you see me, now you don't," it says as it vanishes before your very eyes!"
Gallery[edit]
Names in other languages[edit]
ダンジネスクラブ
danjinesu-kurabu
Dungeness Crab