Firefly squid
From Nookipedia, the Animal Crossing wiki
| | | |
| --- | --- | --- |
| | Firefly squid |   |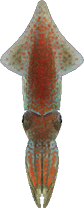 Real-world info
Name: Watasenia scintillans
Family: Enoploteuthidae
Main appearances
Other appearances
Names in other languages
 ホタルイカ
 萤火鱿
 Calmar luciole
 Calamar luciérnaga
 Calamaro lucciola
 Сверкающий кальмар
 반딧불오징어
 螢火魷
 Calmar luciole
 Calamar luciérnaga
 Leuchtkalmar
 Vuurvliegpijlinktvis
The firefly squid is a sea creature in Animal Crossing: New Horizons.
Catch details[edit]
In New Horizons[edit]
Time of year
North: Mar – Jun
South: Sep – Dec
Time of day
9 PM – 4 AM
Shadow size
Tiny
Shadow movement
Slow
Spawn requirement
Appears from the start of the game
Selling price
 1,400 Bells
Furniture size
Donating to the museum[edit]
Blathers will say the following when given a firefly squid:
"The firefly squid is a wee migratory squid that barely reaches three inches in length. And though they usually live in deep water, they do venture to the coast to spawn. Like their firefly namesakes, these sparkling squid emit a blue bioluminescent glow. This glow may be used to threaten enemies, communicate with friends, or, perhaps, to lure food in. Truth be told, we do not know for sure why the firefly squid glows. We remain in the dark, as they say."
Once donated to the museum, the firefly squid is displayed in the deep sea area of the fish exhibit alongside the spider crab.
Gallery[edit]
Names in other languages[edit]
ホタルイカ
hotaru-ika
Firefly squid