Difference between revisions of "Flash"
Jump to navigation
Jump to search
m

m (Text replacement - "\|personality= \[\[(.*)\]\]" to "\|personality= $1")

Line 17:
Line 17:
 

|imagesize= 52px

 

|imagesize= 52px

 

|gender= Male

 

|gender= Male

−

|personality= [[Cranky]]

+

|personality= Cranky

 

|species= [[Bird]]

 

|species= [[Bird]]

 

|sign= Gemini

 

|sign= Gemini
---
Revision as of 09:20, July 17, 2020
| | | |
| --- | --- | --- |
| [[File:BirdSpeciesIconSilhouette.png|30px|link=]] | Flash |   |



Species
Personality
Gender
[[Bird|Bird]]
Cranky
[[:Category:Male

\ characters|Male \]]

Star sign
Gemini
Catchphrase
"babe"
Main appearances
Other appearances
Name in other languages


 みちる
 N/A
 Baleno
 Flo

 N/A
 Maurice
 Mauro
 N/A

 N/A
 Maurice
 Mauro
 N/A

Phrase in other languages


 チルチル (Chiruchiru)
 N/A
 flash
 schätzchen

 N/A
 Unknown
 Unknown
 N/A

 N/A
 Unknown
 Unknown
 N/A
Flash is a cranky, bird islander from the Animal Crossing series. His English name may have been derived from the bright colors of his feathers, as a flash is a sudden seizure of bright light in one or more colors. Flash's Japanese catchphrase, Chiruchiru, is also an onomatopoeia for a bird's chirp.
Characteristics
Appearance
Flash is a dapper-looking blue bird with blocky, closed eyes. He has a pink-red beak and feet while wearing a straw hat. Under his beak is an orange and yellow mark which covers his entire chin, and up to his beak. He also has a swirl of dark blue hair and the tip of his tail and wings are the same color as his chin.
Personality
Below is a brief description of the cranky personality. For more information, click here.
Due to being an islander, Flash's cranky personality is different than the normal cranky personality behavior. While cranky villagers are rude, easily angered, and belittling, Flash acts more like the smug personality introduced in Animal Crossing: New Leaf, being gentlemanly and polite, but also arrogant and conceited. This behavior is also shared with O'Hare and Rowan, the other cranky islanders.
Fruit Allergy
As an Islander, Flash has a favorite fruit and a fruit that he is allergic to, and feeding him the latter type will reduce the likelihood of him dropping money bags. Flash is allergic to peaches and loves apples.
House
In Animal Crossing
Flash will request the following furniture in order to decorate his house.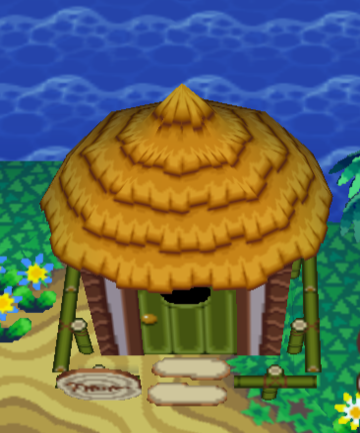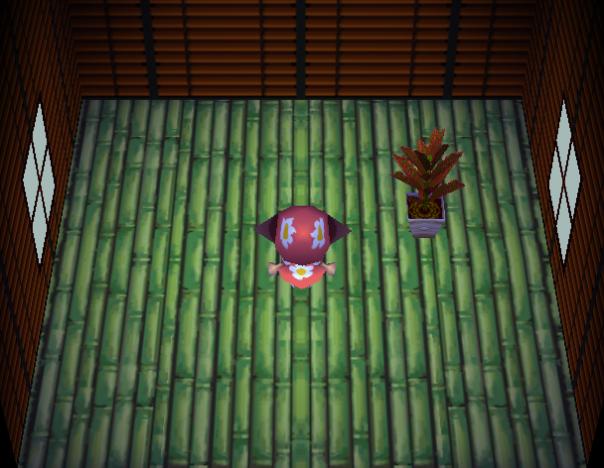 Style:
No style
Items:

| | |
| --- | --- |
|  Hi-Fi Stereo |  Blue Bed |
|  Blue Cabinet |  Blue Bench |
|  Blue Bookcase |  Train Set |
|  Kitschy Clock |  Bromeliaceae |

Wallpaper:
 Wood Paneling
Floor:
 Classroom Floor
Music:
Card profiles
Animal Crossing-e card

Card back

#042 Flash - Series 1

Gender:
Male
Species:
Bird
Clothes:
blue aloha shirt
Sign:
Gemini
Phrase:
babe
Password:
zzUo#JtnxIWsnY
w5mksTn5wRJaAf
Profile:

 
Flash dreams of an eternal summer. When he welcomes you to his island paradise, you'll be taken in by all his smooth talk. Relaxing, swimming, surfing... Actually, it does sound like the perfect life!
Gallery
Names in other languages
みちる
Michiru
Can translate to many different things, such as to grow up, to rise, to be full (i.e. full moon) etc.

---

Flo
-

---

Mauro
Common name in the northern Mediterranean

---

Maurice

---

Baleno
From baleno, "flash".