Ganon
From Nookipedia, the Animal Crossing wiki
"At last! Hyrule is MINE! GAHAHA! Wait...where did Hyrule go?"
— Wisp imitating Ganon, Animal Crossing: New Leaf - Welcome amiibo


Species
Personality
Gender
Pig
Cranky
Male
Birthday
February 21st
Favorite saying
"Never be ashamed to pig out."
Catchphrase
"heh heh"
Clothing
Ganon Outfit
Main appearances


Other appearances

Names in other languages

 ガノン
 가논
 Ganon
 Ganon

 N/A
 Ganon
 Ganon
 N/A

 N/A
 Ganon
 Ganon
 N/A

Phrase in other languages

 フォース
 포스
 trisgrunf
 ganoink

 N/A
 ganouïrk
 ganoink
 N/A

 N/A
 ganouïrk
 ganoink
 N/A
Ganon is a cranky pig villager who first appeared in the Animal Crossing series in Animal Crossing: New Leaf - Welcome amiibo. He originates from Nintendo's The Legend of Zelda series, where he is the recurring main antagonist of many games. Ganon can be brought into the player's campground and invited to join the village by scanning the amiibo of either Ganondorf, 8-Bit Link, a Bokoblin, or a Guardian. His birthday is the same day the original The Legend of Zelda first released in Japan.
Characteristics
Appearance
Ganon is a blue pig with glowing, pupil-less yellow eyes. He wears a small, spiked red cap on his head. Out of Ganon's appearances in The Legend of Zelda series, in Animal Crossing he most strongly resembles his designs in the original The Legend of Zelda, the Oracle series, The Legend of Zelda: A Link to the Past, and The Legend of Zelda: A Link Between Worlds. His initial outfit is the Ganon Outfit, which is based on his armor from these five games.
Personality
Below is a brief description of the cranky personality. For more information, click here.
Ganon is a cranky villager, meaning he is mature, bitter and adult-like. He appears somewhat rude at first, but is very reliable and friendlier when befriended. He gets along well with most snooty villagers and other cranky neighbors, but will sometimes offend jock and peppy villagers unintentionally, as he does not clearly understand their lifestyle. Ganon has a harsh sense of humor, but is very hospitable and kinder once the player enters his home.
Villager information
In Welcome amiibo
Birthday
Personality
Catchphrase
class=sprite link=
[[]]
Default clothing
32px Ganon Outfit
Default umbrella
Bat Umbrella
Favorites
Favorite style
Iconic
Least favorite style
Cute
Favorite color

 

Black

Biography
Siblings
Only child
Skill
Javelin throwing
Goal
Master of the world
Halloween fear
Ghost Mask
Coffee preferences
Type of beans
Kilimanjaro
Amount of milk
Lots
Amount of sugar
Three spoonfuls
House
In Welcome amiibo
House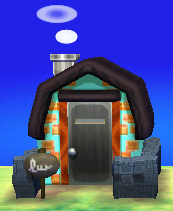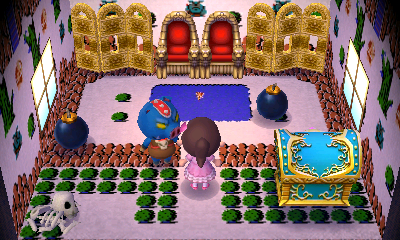 RV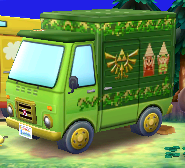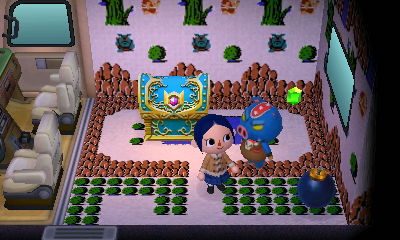 | | |
| --- | --- |
| Description: | There goes the neighborhood! A manifestation of absolute evil has moved in! Yikes! This game just got dark... Maybe he'll play nice with everyone this time? |
| Items: | |
| Wallpaper: |  Hyrule Wall |
| Floor: |  Zelda Floor |
| Music: |  K.K. Dirge |
Gallery
Names in other languages
ガノン
Ganon
-

---

가논
Ganon
-

---

Ganon
-

---

Ganon
-

---

Ganon
-

---

Ganon
-
See also
Notes
↑ Does not contain a stereo initially
Crossover villagers