Happy Home Handbook
From Nookipedia, the Animal Crossing wiki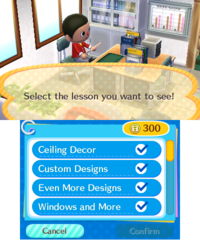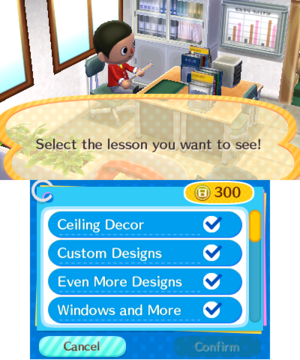 The Happy Home Handbook is a manual containing lessons on home design that the player can study to unlock new features, such as the ability to place furniture on the ceiling, in Animal Crossing: Happy Home Designer. On the ninth in-game day, after the first public facility has been built and designed, Tom Nook gives it to the player as a gift. It can be accessed by sitting at the desk where the game can be saved – located on the first floor of Nook's Homes – and then choosing to study the handbook. In total, there are fourteen lessons, and all of the lessons (excluding the first one, which is offered for free) require a payment of one, two, or five Play Coins to be unlocked. You can only learn one lesson per work day, so recording your progress and starting a new day will allow you to read another. Some of these lessons, like "Ceiling Decor" Unlock items for your catalog when designing Homes and Facilities, while others, like the "Styling Machine", can be used to unlock access to the machines on the second floor of the office.

The lessons that can be learned from the Happy Home Handbook and their prices are listed here: Ceiling Decor-Free Custom Designs-1 Play Coin Even More Designs-5 Play Coins Windows and More-2 Play Coins Sound Scenery-2 Play Coins Refurbishing-2 Play Coins Happy Home Camera-1 Play Coin World Insects-2 Play Coins World Fish-2 Play Coins Ancient Fossils-2 Play Coins Gyroids-1 Play Coin Art Collection-1 Play Coin Choosing A Layout-5 Play Coins Styling Machine- 5 Play Coins
Out of all of the lessons, 12 of them are available after you read the free lesson, and one ("Choosing A Layout") is available after completing the Hospital Facility.