House centipede
From Nookipedia, the Animal Crossing wiki
| | | |
| --- | --- | --- |
| | House Centipede |   |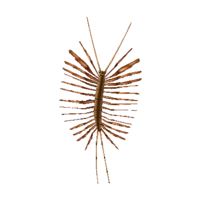 Real-world info
Name: Scutigera coleoptrata
Family: Scutigeridae
Main appearances
Other appearances
Names in other languages
 ゲジ
 N/A
 scutigère
 ciempiés doméstico
 centogambe
 N/A
 그리마
 N/A
 scutigère
 ciempiés doméstico
 Spinnenläufer
 N/A

The House Centipede[nb 1] is a bug in Animal Crossing: New Leaf found between late summer and early fall by striking rocks with a shovel. Like the centipede, it will make a rattling noise while moving.
Catch details[edit]
In New Leaf[edit]
| | |
| --- | --- |
| Time of year | Aug – Oct |
| Time of day | 7 PM – 8 AM |
| Peak times | N/A |
| Location | From hitting rocks |
| Size | Unknown |
| Rarity | Common |
| Selling price |  250 Bells |
| Furniture size | |
Donating to the museum[edit]
In New Leaf[edit]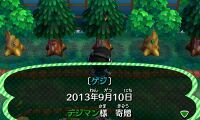 "The house centipede has many remarkably long legs that give it a very intimidating appearance. However, despite this intense look, they are for the most part harmless to humans. When an enemy is holding down one of its legs, the house centipede will drop that leg to make an escape. The dropped leg will continue to flail for a while, though, providing a distraction."
Gallery[edit]
Real-world information[edit]
Originating in the Mediterranean region, the house centipede has spread to other parts of the world, where it can live in human homes. It is an insectivore; it kills and eats other arthropods, such as insects and arachnids. Outdoors, house centipedes prefer to live in cool, damp places. Most live outside, primarily under large rocks, piles of wood, and especially in compost piles. Within the home, these centipedes are found in almost any part of the house. Most commonly they are encountered in basements, bathrooms, and lavatories, which tend to be humid, but they can also be found in drier places like offices, bedrooms and dining rooms. The greatest likelihood of encountering them is in spring, when they come out because the weather gets warmer, and in fall, when the cooling weather forces them to find shelter in human habitats.
Names in other languages[edit]
ゲジ
geji

---

Spinnenläufer
Spider runner

---

Ciempiés doméstico
Domestic centipede

---

Scutigère véloce
Combination of Scutigera, the house centipede's genus in the family Scutigeridae, and the word swift