Pink diner wall (New Horizons)
From Nookipedia, the Animal Crossing wiki
| | | |
| --- | --- | --- |
| | Pink diner wall |  #450 |

Diner Series


Buy price
Sell price
 2,420 Bells
 2,200 Poki
 605 Bells
Obtain via
 Nook's Cranny

HHA themes
Restaurant / Café
Former HHA themes
Fancy / Shop
HHA points
151
Colors

Names in other languages

 ももいろダイナーのかべ
 桃红色餐馆墙
 桃紅色餐館牆
 분홍 다이너 벽
 mur années 50 pêche
 mur années 50 rose
 pared café años 50 rosa
 pared café años 50 rosa
 muro bar anni '50 rosa
 розовая стена кафе
 Rosa-Dinerwand
 roze restaurantwand
The pink diner wall is a wallpaper item in Animal Crossing: New Horizons. It is part of the Diner Series.
The pink diner wall can be obtained from Nook's Cranny for

 2,420 Bells.
This item appears in the homes of

Frita as the default wallpaper.
In Happy Home Paradise, this item is unlocked for use in designing when doing a vacation home request for

Cookie,

Flora,

Fuchsia, and

Peanut.
After unlocking this item in Happy Home Paradise, the item can be purchased from Wardell's catalog for

 2,200 Poki.
Appearance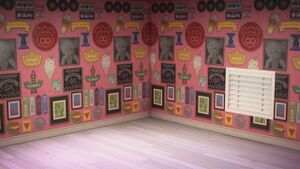 The pink diner wall is a muted pink wall filled with various decorations. These include:
a framed photo of a beach landscape with a palm tree and surfboard
a framed photo of a cityscape
signs depicting various diner food items (i.e, burger, fries, beer, ice cream)
license plates
vinyl records (in red, green, and blue)
a poster of a woman who resembles Marilyn Monroe
a road sign decoration, possibly a reference to Route 66
a sign with a matinee arrow pointing upwards with a green bow-like shape
a small poster with a guitar in front of a striped background
a robot poster
a sign with a golden crown
a yellow ribbon banner sign
a monochrome poster depicting a car placed with a cityscape background and a checkerboard floor
a heart card sign
vertical signs in various colors (from left to right: green, light blue, brown, violet blue)
The pink diner wall also has white base trimmings. The window is a white framed window with matching Venetian blinds. Its slats are white and the ladders are sliver.
See also
References