Main Page
From Nookipedia, the Animal Crossing wiki
New in July
This month's events
↑ Random predetermined day in July

Nook Shopping events

Tanabata
Jul 1st — Jul 7th

Marine Day
Jul 9th — Jul 18th

Le 14 juillet
Jul 10th — Jul 20th

Cowboy Festival
Jul 15th — Aug 15th

Cowherd & Weaver Girl Day
Jul 26th — Aug 4th

Critters in New Horizons
New in the Northern Hemisphere

New in the Southern Hemisphere

No new critters this month!
Latest Releases
News
Nookipedia user promotion
22nd Jun 2022

New soundtracks
28th Apr 2022

Cephalopedia (April Fools)
1st Apr 2022

Nookipedia has been acquired by
Cephalobot
and has been rebranded as Cephalopedia.
NSO missions and rewards
1st Mar 2022
Nintendo 3DS/Wii eShop discontinuation
15th Feb 2022
Featured Fanart
Every month, Nookipedia collaborates with the community to feature a new piece of fanart.

Check back in August for the next artwork!

Trivia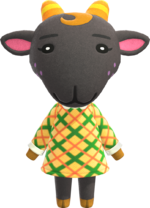 According to her e-Reader card profile and Pocket Camp description, Nan (pictured) is a pen-pal of Chevre, and would eat Chevre's mail before reading it, which is a reference to a popular Japanese children song "Goat Mail" (やぎさんゆうびん).
Roswell's design, name, and catchphrases are all themed around aliens and the related Roswell incident.
In New Horizons, interacting with the Bamboo Grass will allow the player to read a random piece of tanzaku, each of which were written either by a villager or a special character.
The The Legend of Zelda crossover villagers in Welcome amiibo had their birthday set to the original Japanese release date of the game they originated from.
In New Horizons, if the Candles Wall and Magic-Circle Flooring are both set up in a house, and the player turns off the lights, the candles on the Candle Wall will light up, while the Magic-Circle Flooring will start to glow before beaming a ray of light, playing a unique sound in the process.
Affiliates