Main Page
From Nookipedia, the Animal Crossing wiki
New in December

Nook Shopping events

Winter Solstice (southern hemisphere)
Dec 15th — Dec 22nd

Summer Solstice (northern hemisphere)
Dec 15th — Dec 22nd

New Year's Eve
Dec 22nd — Dec 31st

Ōmisoka
Dec 22nd — Dec 31st

Silvester
Dec 22nd — Dec 31st

Nochevieja
Dec 22nd — Dec 31st

New Year's Day
Dec 22nd — Jan 5th

Shōgatsu
Dec 22nd — Jan 5th

Critters in New Horizons
New in the northern hemisphere

New in the southern hemisphere

Latest Releases
News
One million edits!
28th Nov 2022

Nookipedia has reached one million total edits! The
millionth edit
was made at 19:24 EST on November 28, 2022.


Concert performance featuring DJ KK announced
1st Sep 2022

Nintendo has announced, as part of their
Nintendo Live 2022
event held at the
Tokyo Big Sight
live from on October 8th and 9th, the
DJ K.K PARADISE MIX!!
concert, with music from
Animal Crossing: New Horizons
. There will be 3 performances during the event, with the third performance broadcasting live on
YouTube
.
Nookipedia user promotion
22nd Jun 2022

Featured Fanart
Every month, Nookipedia collaborates with the community to feature a new piece of fanart.

Check back in January for the next artwork!
Community Poll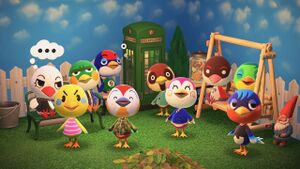 How many species of villagers do you have on your New Horizons island?
You voted for "8+" on December 6, 2022 at 15:34. You can change your vote by clicking a different answer below.
There were 8 votes since the poll was created on 10:23, December 1, 2022.
poll-id C44DBC2320F2925B4D9687D983985AEB

Trivia
Did you know?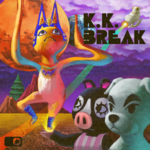 Today's Birthdays
Happy Birthday!
Today is Kyle's birthday!
Affiliates