NookLink
From Nookipedia, the Animal Crossing wiki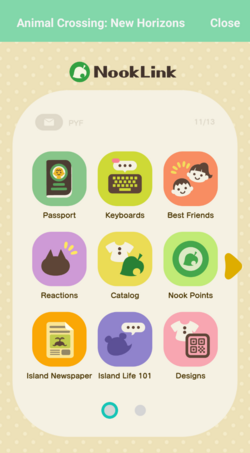 NookLink is a service in the Nintendo Switch Online mobile application that connects with Animal Crossing: New Horizons. To connect, the player must open the settings from the title screen of New Horizons and talk to Tom Nook. After this the player will be able to sync up various online services featured in the game.
Features
NookLink is divided into app-like sections, similar to the in-game NookPhone.
Passport

Shows the player's passport, as well as their custom design creator ID and the current residents of their island. Beginning in an update on July 30, 2020, the player's Dream Address, recent dreams, and total number of visitors to their dream are also shown.
Designs

Allows the user to scan design QR codes created in Animal Crossing: New Leaf or Animal Crossing: Happy Home Designer and import them into New Horizons.
Keyboards

Brings up a chat keyboard where the user can type messages to appear in-game.
Best Friends

Allows the user to view a list of their Best Friends as well as their online status.
Reactions

Allows the user to use Reactions through the app. The five most recently used Reactions are also shown. The Reactions feature was added in an update on October 6, 2020.[1]
Catalog

Allows the user to view their catalog and mark items as favorites. The player can search for items either by name or criteria, such as category or color. The 20 most recent items that were added to a player's catalog can also be viewed by tapping 'New Items'. The catalog feature was added in an update on November 29, 2020.[2]
Nook Points

This service allows the player to receive 10 Nook Points each day, which can be redeemed for unique items. The daily 10 Nook Points have a chance of being multiplied by 2, 3, or 5. Purchased items are mailed to the player's house immediately in a letter from the NookLink Admins; up to two items can be purchased per day. This feature was added in an update on March 30, 2021.[3]
The user can view the last 100 items purchased with Nook Points, and Words of Wisdom from Katrina are shown each time points are received.
Items
The following items can be purchased from NookLink with Nook Points.
NookLink items in Animal Crossing: New Horizons
Includes data sourced from this Item Spreadsheet, compiled by 6480, noizhub, Ricky, chaiinchomp, saberslime, robotic_scarab, mollumisc, sunmarsh, kyrokey, obstinateRixatrix, jackiwi, Zalex, SuperHamster, kait, hyuum, Azarro, Czarcasm, cinnamon_swirlix, astronomyfortwo, Welcius, glowtopia, BriKun, Alyrei, dodocodes.com, StevieCoops, sneeze, Shiny190, TwistedPeach, LavaToaster, capstone, vmario, rocklamp, Alexis, Aeon, and PanchamBro.
Settings

Allows the user to change which of the island's residents to play as, change the app's language, and view copyright information and credits.
Gallery
Names in other languages
タヌポータル
Tanupōtaru
Tanu Portal

---

너굴포털
Neogulpoteol
Neogul Portal

---



狸端机入口站 / 狸端機入口站
Lí duān jī rùkǒu zhàn
Liduanji Entrance Station

---

NookLink
NookLink

---

NookLink

---

NookLink

---

NookLink

---

NookLink

---

NookLink
References