Ricky
Jump to navigation
Jump to search
This article is about Ricky, a cranky squirrel villager. For villager whose Japanese name is the same as this villager's English name, see Filbert.

Ricky
 

 

Unknown

 

Unknown

 

Unknown

 

Unknown

 

Unknown

 

Unknown

 

Unknown

 

Unknown

 

Unknown

Birthday
September 14th
Phrase

キッ

(JP)
nutcase(EN)
Clothes
Three-Ball Tee

*

Saying
You gotta break a few shells to get to the nut.


私の親戚よりも私の歯

Main Games
Other Games
Ricky is a cranky, squirrel villager from the Animal Crossing series. He has appeared in the original Animal Crossing. He was removed from Animal Crossing: Wild World and Animal Crossing: City Folk, but reappeared in Animal Crossing: New Leaf. His name is also the Japanese name of Filbert.
Characteristics
Appearance

Ricky is an orange and yellow squirrel who constantly looks angry, thanks to his eyebrows. Ricky has a big red/pink nose which makes him look kind of cute. He has a weird-looking mouth that looks like a smile, but at the same time makes him look grumpy. This may add to his cranky personality. Ricky has a white and blue stripe starting from his forehead and going down his different-colored, swirly, bushy tail. He has pink inside his stubby ears. Even though he does not, it looks like he has a mustache, like Gaston. He slightly resembles Wario. His eyes resemble those from a Goomba from the Mario series.
Personality
Below is a brief description of the cranky personality. For more information, click here.
Ricky is a cranky villager and will appear grumpy and grouchy towards the player at first, and for quite a while afterwards, and may take a while to lighten up and grow more friendly to the player. Like other cranky villagers, even giving him medicine won't cheer him up and is very self-centered. He will admire lazy villagers due to their laid-back attitude. He will not admire peppy villagers.
Preferences
In New Leaf
Picture
You gotta break a few shells to get to the nut.
Biography
Siblings
Eldest of ten
Skill
Making faces
Goal
Detective
Fear
Skeleton
Favorites
Clothing
Iconic
Ornate
Color
Aqua
Coffee
Type
Kilimanjaro
Milk
The regular amount
Sugar
Two spoonfuls
Ideal Gifts for Ricky – Aqua Iconic
https://dodo.ac/np/images/8/8e/RickyPicACNL.pngEldest of tenMaking facesDetectiveSkeletonIconicOrnateAquaKilimanjaroThe regular amountTwo spoonfuls
House
In Animal Crossing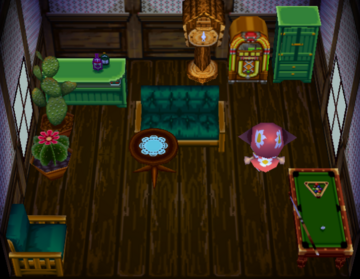 Style:
No style
Items:
Ranch Sofa, Ranch Chair, Jukebox, Green Counter, Green Wardrobe, Classic End Table, Billiards Table, Cabin Clock, Tall Cactus, Round Cactus
Wallpaper:
 

Manor Wall

Flooring:
 

Board Floor

Music:
[[K.K. Western]]
In New Leaf Style:
No style
Items:
Desert Cactus, Fireplace, Cabin Table, Cabin Bookshelf, Accustic Guitar, Cabin Chair, Watering Trough, Potbelly Stove, Red Boombox, Vintage Radio, Ten-Gallon Hat, Wooden Crate
Wallpaper:
 

Cabin Wall

Flooring:
 

Old Board Floor

Music:
[[K.K. Western]]
Card profiles
Animal Crossing e-Reader Card
Animal Crossing-e card

Card back

#134 Ricky -

Series 3

Gender:
Male
Species:
Squirrel
Clothes:
three ball shirt
Sign:
Virgo
Phrase:
nutcase
Password:
Rx%vyx&QSm@rDM
DcQMPGvZ7KsZ2G
Profile:

 
This precocious little squirrel got into a lot of trouble all the time as a kid. Ricky's problem is that he loves to chew on everything in sight - even stuff that isn't edible. You'd better stand back when you talk to him!
Animal Crossing amiibo Card
Animal Crossing amiibo card

Card back

#239 Ricky -

Series 3

| | |
| --- | --- |
| Type: | Squirrel |
| Star sign: | Virgo |
| Birthday: | September 14th |
| Dice value: | 4 |
| Hand sign: | Scissors |
Gallery
Artwork
Sprites & Models
Screenshots
Miscellaneous
The e-Reader card for Mr. K.K., which features Ricky.
Names in other languages
UnknownUnknownUnknownUnknownUnknownUnknownUnknownUnknownUnknownUnknownUnknownUnknownUnknownUnknownUnknownUnknownUnknownUnknownUnknownUnknownUnknownUnknownUnknownUnknownUnknownUnknownUnknownUnknownUnknownUnknownUnknownUnknownUnknownUnknownUnknown