Shovel
From Nookipedia, the Animal Crossing wiki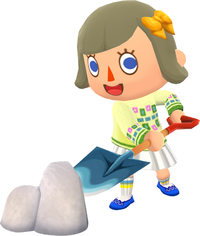 Shovels in the Animal Crossing series are used to dig holes and bury items in the ground. It is an essential tool for planting flora, unearthing fossils to donate to the museum, and removing stumps from trees that have fallen to an axe.
Usage
A shovel can be used to dig holes in any location where there is no obstruction, such as stone paths, ground designs, buildings, structures and trees. Flora such as flowers, fruit, saplings and bamboo shoots can be buried within holes in order to grow them. Items can also be buried in the ground, and are marked with a small star-shaped crack. Items can be unearthed with a shovel, while digging plants will destroy them. Tree stumps and bushes can only be removed by digging them out with a shovel.
Shovels can also be used on certain rocks. Daily in every game, a random rock in town will dispense Bells or ore when struck with a shovel. In Doubutsu no Mori e+, a random rock in town can be broken once a week to access the Resetti Surveillance Center. In Animal Crossing: New Leaf, a fake rock will appear somewhere in town and can be broken with a shovel to reveal a single piece of ore. Additionally, in Animal Crossing: New Horizons, all rocks except for one will yield resources, such as clay, stone, or iron nuggets, while the remaining one will yield Bells like in previous games
In every game, there are more advanced versions of the shovel that have unique effects, though they differ between the games. The Silver Shovel has a slim chance of altering the Money Rock, causing it dispense double the usual amount of money, or ores instead of Bells. The Golden Shovel has the ability to bury Bells to plant Money Trees, or unearth random Bells from the ground.
Obtaining
In Animal Crossing
Shovels in Animal Crossing
Animal Crossing: Wild World
In Wild World and all future games up through New Leaf, Money Trees can only be planted with a Golden Shovel, however, unlike in Animal Crossing, they can now be planted anywhere a standard tree will grow.
Shovels in Animal Crossing: Wild World
| Item | Image | Buy Price | Sell Price | Available From | Info |
| --- | --- | --- | --- | --- | --- |
| Shovel | |  500 Bells |  125 Bells |  Tom Nook's store | Standard shovel |
| Golden Shovel | | Not for sale |  125 Bells | Bury a Shovel and after three days it will turn into a Golden Shovel | Can bury Bells to grow Money Trees |
Animal Crossing: City Folk
City Folk introduces a Silver Shovel with a unique effect, in addition to the standard and golden variations.
Shovels in Animal Crossing: City Folk
Animal Crossing: New Leaf
New Leaf changes the requirement to obtain the Golden Shovel. Filling in holes without using the shovel can now be done while still carrying said tool and the button method has been changed to the Y button.
Shovels in Animal Crossing: New Leaf
Animal Crossing: New Horizons
Shovels in New Horizons will break after a specific amount of uses. Digging up items buried in the ground, uprooting plants and trees, and hitting rocks all reduce a shovel's durability. A shovel's durability is not reduced when hitting other players or characters, hitting objects that aren't rocks, digging holes without finding anything or when filling holes.
Unlike most other tools, shovels will not break for the certain actions even when they are no longer durable. This is to prevent the breakage from interfering with the action. Such actions include breaking rocks, uprooting full-grown trees, or when hitting a rock that dispenses an item. The shovel will remain usable until a short moment after such actions have stopped.
Shovels in Animal Crossing: New Horizons
Includes data sourced from this Item Spreadsheet, compiled by 6480, noizhub, Ricky, chaiinchomp, saberslime, robotic_scarab, mollumisc, sunmarsh, kyrokey, obstinateRixatrix, jackiwi, Zalex, SuperHamster, kait, hyuum, Azarro, Czarcasm, cinnamon_swirlix, astronomyfortwo, Welcius, glowtopia, BriKun, Alyrei, dodocodes.com, StevieCoops, sneeze, Shiny190, TwistedPeach, LavaToaster, capstone, vmario, rocklamp, Alexis, Aeon, and PanchamBro.
Names in other languages
スコップ
sukoppu
Shovel

---

Лопата
Lopata

---

Schaufel
Shovel

---

Pelle
Shovel

---

Pala
Shovel