Soccer
Jump to navigation
Jump to search

North American game cover

Developer(s)
Intelligent Systems
Publisher(s)
Nintendo
Platform(s)
Famicom/NES
VS. System
Famicom Disk System
Wii (Virtual Console)
Wii U (Virtual Console)
Nintendo Switch (Nintendo Entertainment System: Nintendo Switch Online)
Release date(s)
Famicom/NES
April 9, 1985
October 18, 1985
January 1987
VS. System[nb 1]
November 1985
1985
Famicom Disk System
1986
Wii
November 19, 2006
December 2, 2006
December 22, 2006
Wii U
June 12, 2014
December 3, 2014
Nintendo Switch
September 19, 2018
Genre(s)
Sports
Ratings
ACB: G
CERO: A
ESRB: E
PEGI: 3

Soccer[nb 2] is a sports game developed by Intelligent Systems released for the Famicom and Nintendo Entertainment System in 1985 that can be played in international versions of Animal Crossing and in Doubutsu no Mori e+ by interacting with the Soccer item.
Gameplay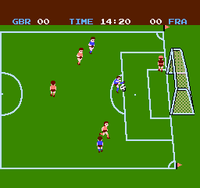 Upon starting a game, the player must select one of seven teams, the opponent's skill level from one to five, and a half time of 15, 30, or 45 minutes. Like in real soccer, the objective of Soccer is to kick the ball into the opposing team's goal. The player nearest to the ball at the start of a game is given control, and can either pass the ball to a teammate or kick it toward the opponent's goal. When passing the ball to a teammate, an arrow will appear above the player closest to player in control, indicating they are the receiver; once the ball is passed, the player takes control of the receiver. If the opponent's team gets the ball into the player's area, the player takes control of the goalkeeper, allowing them to guard the goal and dive at the ball.
Each of the game's seven teams represents a country's real-life soccer team as of 1985, including:
Controls
+Control Pad - Move
A Button - Shoot the ball toward the opponent's goal
B Button - Pass the ball to a teammate
Start Button - Pause; confirm selected option
Select Button - Select number of players on title screen
In Animal Crossing
In Animal Crossing and Doubutsu no Mori e+, the Soccer furniture item can be obtained from Tom Nook by entering a secret code that could be obtained from the official Animal Crossing website.
Gallery
Notes