Excitebike
From Nookipedia, the Animal Crossing wiki

North American box art

Developer(s)
Nintendo R&D1
Nintendo R&D4
Publisher(s)
Nintendo
Platform(s)
Nintendo Entertainment System
Release date(s)
November 30, 1984
October 18, 1985
February 3, 1986
September 1, 1986
Genre(s)
Racing
Excitebike is a racing game for the Nintendo Entertainment System released in 1984 that can be played in Animal Crossing and Doubutsu no Mori e+ by interacting with the Excitebike item.
Gameplay
[
edit
]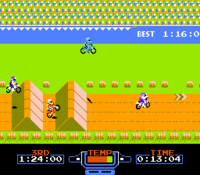 The player takes on the role of a motocross racer with a red motorcycle, who's purpose is to win the Excitebike championship. Being able to choose between racing against other motocross riders or racing alone, the player has to guide the red motocross racer under clock along the track to jump ramps, and dodge obtacles and/or the other riders. While also trying to perform good enough to qualify for the championship / the next track, and being careful with the speed they move at, to keep the temperature of their motorcycle at a stable level so as to prevent having to stop for it to cool down. Stepping over arrows along the track resets the temperature level.
At the start of the game, tracks from 1 to 5 can be chosen to be played, but the game also features a Design mode, which lets players design their own tracks to their liking.
In Animal Crossing

[

edit

]

In Animal Crossing and Doubutsu no Mori e+, the Excitebike furniture item can be obtained from the lottery.
Gallery
[
edit
]
External links
[
edit
]
Excitebike on other wikis