Gigas giant clam
From Nookipedia, the Animal Crossing wiki
| | | |
| --- | --- | --- |
| | Gigas giant clam |   |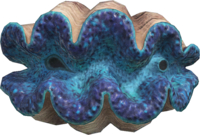 Real-world info
Name: Tridacna gigas
Family: Cardiidae
Main appearances
Other appearances
Names in other languages
オオシャコガイ
大砗磲
大硨磲
대왕거거
Bénitier colossal
Bénitier colossal
Taclobo gigante
Taclobo gigante
Tridacna gigante
Гигантская тридакна
Gigas-Riesenmuschel
Reuzendoopvontschelp
The gigas giant clam is a sea creature in the Animal Crossing series. It first appeared in Animal Crossing: New Horizons in the 1.3.0 Free Summer Update, and in October 2020, it became available as a limited-time item in Animal Crossing: Pocket Camp, where it is categorized as a shell rather than a sea creature. At

 15,000 Bells, this is the highest-selling sea creature.
Catch details
[
edit
]
In New Horizons

[

edit

]
Time of year
North: May – Sep
South: Nov – Mar
Time of day
All day
Shadow size
Very large
Shadow movement
Very fast
Spawn requirement
Catch 80 total sea creatures
Selling price
 15,000 Bells
Furniture size
In Pocket Camp

[

edit

]

The gigas giant clam appears as a shell in Animal Crossing: Pocket Camp and was available for a limited time as part of the Wham-Bam Clam Goals event, from October 9 to October 12, 2020. During the event, the shell would appear on the beach at Saltwater Shores, where it could be picked up. After the event, remaining gigas giant clams can stay in the player's inventory, where they can still be sold, used for animal requests, or listed in the player's Market Box. The sell price for this shell is

 3,000 Bells. For villager requests, it is part of rarity tier 3, which earns the player

 1,500 Bells and 3

Friendship Points, as well as a chance to earn a bronze treats box and a Regular Fortune Cookie, if the shell is used to fulfill a request.
Donating to the museum
[
edit
]
In New Horizons

[

edit

]
When donating to the museum, Blathers will say the following:
"Gigas giant clams live in warm-water coral reefs and are the biggest bivalves in the world. Growing as wide as six feet and weighing up to 600 pounds, these clams can live to be 100 years old. And yes, these mighty creatures look as though they could eat a swimmer whole. But they eat plankton instead and get valuable nutrients from an algae they live in symbiosis with. Indeed, these enormous gents get all the sustenance they need by lying face up with their shells half-open. If such was my life, I'd be happy as a clam too."
Gallery
[
edit
]
Real-world information
[
edit
]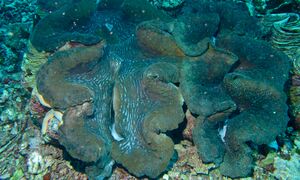 Tridacna gigas is one of the most endangered clam species. There is documentation of their existence as early as 1521. One of a number of large clam species native to the shallow coral reefs of the South Pacific and Indian oceans, they can weigh more than 200 kilograms (440 lb), measure as much as 120 cm (47 in) across, and have an average lifespan in the wild of over 100 years. They are also found off the shores of the Philippines and in the South China Sea in the coral reefs of Sabah (Malaysian Borneo).

More information on this topic is available at Wikipedia.
Names in other languages
[
edit
]
オオシャコガイ


ō-shako-gai
From Chinese name

---

대왕거거


daewang-geogeo
Likely from Chinese name

---

大砗磲


dà chēqú
Tridacna gigas; named for its pearl, full etymology unknown

---

大硨磲


Unknown

---

Гигантская тридакна


Gigantskaya tridakna
Tridacna gigas

---

Reuzendoopvontschelp

Giant Tridacna, lit. "giant basin shellfish"

---

Gigas-Riesenmuschel

Gigas giant bivalve

---

Taclobo gigante

Giant Tridacna

---

Bénitier colossal

Giant Tridacna, lit. "giant basin"

---

Tridacna gigante

Giant Tridacna