Ice Climber
From Nookipedia, the Animal Crossing wiki

North American box art

Developer(s)
Nintendo R&D1
Publisher(s)
Nintendo
Platform(s)
NES
Release date(s)
January 30, 1985
October 18, 1985
September 1, 1986
Genre(s)
Platform
Ice Climber is a platform game for the Nintendo Entertainment System released in 1985 that can be played in Animal Crossing by interacting with the Ice Climber item.
Gameplay
[
edit
]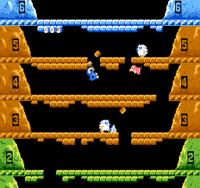 The first player controls Popo, while the second player controls Nana. The goal is to reach the top of the level by breaking through layers of ice while avoiding various enemies, which can be defeated or stunned with their mallets. After eight layers, each level has a bonus stage where Popo or Nana can collect eggplants for points. At the top of each level is a condor, which the Popo or Nana must jump into to complete the level.
Enemies include Topis, Nitpickers, and White Bears. Topis are yeti-like creatures (seals in the Japanese version) that can fill holes with ice, requiring Popo or Nana to break them again. Nitpickers are birds that can fly between layers. The White Bear only appears if Popo or Nana take too long to move up they mountain; the bear pounds the ice to force to screen to scroll up.
In Animal Crossing

[

edit

]

In Animal Crossing, the Ice Climber furniture item can be obtained from scanning the e-Reader card N01 at the eTM in the post office. In Doubutsu no Mori+, the game is the Japanese version, where Topis are seals instead of yeti.
External links
[
edit
]
Ice Climber on other wikis