Apple Wall (New Horizons)
From Nookipedia, the Animal Crossing wiki
The Apple Wall is a wallpaper item in Animal Crossing: New Horizons.
The Apple Wall can be obtained from crafting, which requires

20× Apple. The recipe for this item can be obtained from big sister villagers.
This item appears in the homes of the following villagers:

Apple.
Appearance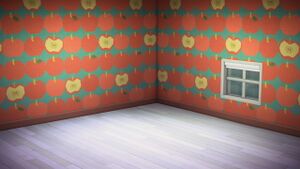 The Apple Wall features a pattern of apples against a blue wallpaper, with some apples featuring a leaf, and some apples cut in split to showcase its core. There are also lightly colored apples. The window is rectangular with a white frame, a vertical and horizontal rail that meet in the center forming a "plus" shape, and a shade rolled up at the top.
See also
References