Blue playroom wall (New Horizons)
From Nookipedia, the Animal Crossing wiki
| | | |
| --- | --- | --- |
| | Blue playroom wall |  #84 |



Buy price
Sell price
 2,540 Bells
 2,300 Poki
 635 Bells
Obtain via
 Nook's Cranny

HHA themes
Child's room / Fancy
HHA points
151
Colors

Names in other languages

 

あおいキッズルームのかべがみ

 

蓝色儿童房壁纸

 

藍色兒童房壁紙

 

파란 놀이방 벽지

 

mur salle de jeu bleu

 

mur salle de jeu bleu

 

pared barquito azul

 

pared barquito azul

 

muro stanza giochi azzurro

 

голубая стена в детскую

 

Blau-Spieltapete

 

blauwe kinderkamerwand
The blue playroom wall is a wallpaper item in Animal Crossing: New Horizons.
The blue playroom wall can be obtained from Nook's Cranny for

 2,540 Bells.
This item appears in the homes of

Axel,

Bob,

Broccolo,

Hamlet,

Hugh,

Jeremiah, and

Kody as the default wallpaper.
In Happy Home Paradise, this item is unlocked for use in designing when doing a vacation home request for

Derwin,

Dizzy,

Egbert,

Filbert,

O'Hare,

Sherb,

Stinky, and

Sylvia. The item can also be unlocked when tasked by Lottie to design the hospital.
After unlocking this item in Happy Home Paradise, the item can be purchased from Wardell's catalog for

 2,300 Poki. Additionally, it is the default wallpaper that appears in the left room of Photopia.
Appearance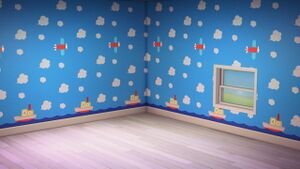 The blue playroom wall consists of a blue background with small white clouds dotted randomly on the wall. There is a small yellow, red and white boat to the right side of the wall. At the bottom of the wall, a small dark blue line of the sea can be seen, which the boat appears to be floating on.
See also
References