Bunny Day flooring (New Horizons)
From Nookipedia, the Animal Crossing wiki
The Bunny Day flooring is a floor item in Animal Crossing: New Horizons introduced in the 1.1.0 First Update.
The Bunny Day flooring can be obtained from crafting, which requires

2× earth egg,

2× stone egg,

2× leaf egg,

2× wood egg,

2× sky egg, and

2× water egg. The recipe for this item can be obtained from egg-themed balloons or message bottles during Bunny Day.
No villagers have this item in their home.
In Happy Home Paradise, no villagers or facility unlock this item for designing. It can only be used once the player's DIY catalog is unlocked after completing the 15th vacation home.
Appearance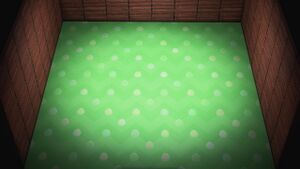 The Bunny Day flooring features a zig-zag pattern of a green shade beneath a cross-like pattern of differently colored eggs.
When stepping on the floor, the Bunny Day flooring produces a rug-textured sound.
Version differences
Prior to version 1.9.0, the Bunny Day flooring had no colors.
See also
Gallery
References