Deer scare (New Horizons)
From Nookipedia, the Animal Crossing wiki
The deer scare is a customizable houseware furniture item in Animal Crossing: New Horizons. It is part of the Bamboo Series.
The deer scare can be obtained from crafting, which requires

3× bamboo piece,

8× stone, and

3× clump of weeds. The recipe for this item can be obtained from cranky villagers, either when they are crafting in their house, or when the player receives their message bottle from the beach. The item's bamboo can be customized either by using 3 customization kits or by Cyrus at Harv's Island for

 2,400 Bells.
This item appears as a furniture item in the homes of

Genji and

Walt. As a result, this item has a chance to be purchasable by the player if they were invited by any of the preceding villagers.
In Happy Home Paradise, this item is unlocked for use in designing when doing a vacation home request for

Annalisa,

Buzz,

Chester,

Dobie,

Genji,

Gladys,

Greta,

Lily,

Mallary,

Marcel,

Toby,

Walt, and

Wart Jr.. The item can also be unlocked when tasked by Lottie to design the restaurant.
In the designing process of Happy Home Paradise,

Gladys and

Mallary require this item to be placed in or outside their vacation home.
Variations
The deer scare has 3 variations.
Gallery
Real-world information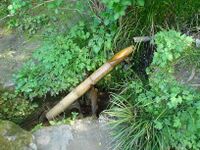 Shishi-odoshi (鹿威し, Shishi-odoshi?) is a Japanese device, which includes a water fountain and a tube often made of bamboo that has its heavier side on the rocks. The tube is gradually filled up with the water from the fountain, which changed the tube's center of gravity and tips the tube down towards the fountain to dump the water. The tube then hits the rock again, creating a loud noise, and the cycle repeats. Though the shishi-odoshi was meant to fend off animals known to threaten agriculture in the country, including deer and boars, its use nowadays is often a decoration for gardens.
Despite its name, the deer scare cannot frighten deer villagers in-game.
More information on this topic is available at Wikipedia.
In other games
References