Mahjong (Doubutsu no Mori+)
From Nookipedia, the Animal Crossing wiki
The subject of this page has no official English localization, so a translation of the original Japanese name is used instead.
Famicom game



Buy price
Sell price
Not for sale
 750 Bells
Size

 1 × 1

Obtain via
HRA points
1983
HRA penalty if facing wall
Unknown
Feng shui

Red

Appearances
Mahjong (まーじゃん, Mājan?) is a furniture item in Doubutsu no Mori+. It can be placed on the surface of tables and other similar furniture that have surfaces for items. The player can interact with this item to play Mahjong.
Mahjong can be obtained from a secret code that could be generated on the game's official website.[1] For the purpose of fêng shui, its color is red. This item is lucky, meaning it gives a 777-point Happy Room Academy bonus when placed in the player's house.
No villagers have this item in their home.
Game overview
For more information about this game, see its corresponding article on NintendoWiki.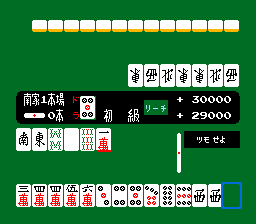 Mahjong is a tile-based game published by Nintendo for the Famicom in 1983.
Mahjong consists of a 1 vs. 1 mahjong match against the Computer; which has three different AI levels: "初" for beginners, "中" for recurrent players, and "上" for professionals. Once the table is set, the game is played by switching turns between the player and the Computer. The rounds only advance once the discard pile is full, or when either player completes a winning hand. Then at the end, after the rounds end, the player with the most points wins.
Either player can discard tiles or claim their rival's discarded tiles for grouping aside into Pon (e.g. 3 3 3), Kan (e.g. 3 3 3 3), or Chii (e.g. 1 2 3), winning via Ron by using the rival's discarded tiles or claiming Tsumo (placing a point stick on the table and waiting for a single last tile).
Tiles for discarding are selected by moving a blue rectangle on the lower hand, and on the black bar in the middle, the player can select from between some of the previously mentioned options, including also selecting Agari if they think they have a complete winning hand.
On the black bar, the randomly selected "Dora" tile can be seen. It is a tile that can increment the points given (x5) if the player wins while keeping that tile, but in the end, having a well-thought Yakuman or complete hand tends to give out more points.
Notes
References
External links