Punchout (Animal Crossing)
From Nookipedia, the Animal Crossing wiki
NES game



Buy price
Sell price
Not for sale
 750 Bells
Size

 1 × 1

Obtain via:
(DnM+)
 Crazy Redd's

Obtain via:
(AC)
 Secret code

Obtain via:
(DnMe+)

Unobtainable



HRA points
1983
HRA penalty if facing wall
Unknown
Feng shui
None
Appearances

Names in other languages

 

パンチアウト

 

N/A

 

Punchout

 

Punchout

 

N/A

 

Punchout

 

Punch-Out de NES

 

N/A
Punchout is a furniture item in Doubutsu no Mori+, Animal Crossing, and Doubutsu no Mori e+. It can be placed on the surface of tables and other similar furniture that have surfaces for items. The player can interact with this item to play Punch-Out!!.
In Animal Crossing, Punchout can be obtained from Tom Nook after providing a secret code that could be generated on the game's official European website in October 2004.[1] In Doubutsu no Mori+, it can be obtained from Crazy Redd's Furniture Emporium, Wisp, a treasure hunt, or trees when the player has good luck. No code is known to have been distributed for Doubutsu no Mori e+, meaning the item is unobtainable; it appears in the catalog if the player transfers their data from Doubutsu no Mori+ to Doubutsu no Mori e+, but it cannot be purchased.
Punchout does not have any color for the purpose of fêng shui.
No villagers have this item in their home.
Version differences

In Doubutsu no Mori+, Punchout is modeled after a Famicom rather than a Nintendo Entertainment System. Doubutsu no Mori e+ retains the design from Animal Crossing.
Game overview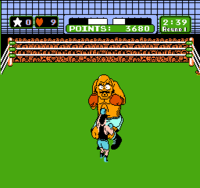 Punch-Out!! is a boxing game for the Nintendo Entertainment System released in 1987. Originally released as Mike Tyson's Punch-Out!!, the 1990 re-release with Mr. Dream instead of Mike Tyson is featured in the Animal Crossing games.
In Punch-Out!!, the player controls a boxer named Little Mac, who is fighting his way through the ranks of the World Video Boxing Association. The game consists of fights against various opponents throughout three circuits, until Little Mac reaches the "Dream Fight" against Mr. Dream (originally Mike Tyson).
Each fight has Little Mac throwing punches at his opponent until they are knocked down. Little Mac can punch to the right or left with either a jab or body blow, dodge to the left or right, block the opponent's punches, or use a high-power uppercut if he has a star, which is obtained by punching the opponent in a specific place or at a specific time. Each opponent has a unique move set and weakness.
Each bout is ended either by knockout (KO), where the opponent or Little Mac does not get up within 10 seconds of being knocked down, by technical knockout (TKO), where the opponent or Little Mac is knocked out three times in a single round, or by the referee's decision, where if the opponent has not been defeated by the end of the third round, the referee decides the winner based on how many points the player accumulated during the fight; however, some fights cannot be won this way, regardless of how many points the player has.
Notes
References