Rainbow shirt (Animal Crossing)
From Nookipedia, the Animal Crossing wiki
The rainbow shirt is a clothing item in every first-generation Animal Crossing game.
The rainbow shirt can be obtained from Tom Nook's store for

 777 Bells.[nb 4]
In Animal Crossing, this item is worn by

Jane as their default outfit.
Trivia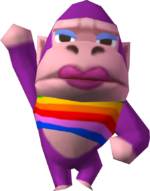 The rainbow shirt shown in Jane's international artwork for Animal Crossing has a different design from its in-game appearance. The colors are solid rather than having a gradient, and they are in a different order (green, yellow, orange, red, purple, and blue rather than red, orange, yellow, green, blue, purple, and pink).
Notes
References

Fashion