Tatami flooring (New Horizons)
From Nookipedia, the Animal Crossing wiki
| | | |
| --- | --- | --- |
| | Tatami flooring |  #634 |



Buy price
Sell price
 2,200 Bells
 2,000 Poki
 550 Bells
Obtain via
 Nook's Cranny

HHA themes
Harmonious / Retro
Former HHA themes
Living room
HHA points
151
Colors
In other games
New Leaf (tatami floor)


Names in other languages

 

ふちなしたたみ

 

无边榻榻米

 

無邊榻榻米

 

일본식 돗자리 바닥

 

sol tatamis carrés

 

sol tatamis carrés

 

tatami cuadrado verde

 

tatami cuadrado verde

 

tatami a quadrati

 

пол-татами

 

Tatamibelag

 

groene tatamivloer
The tatami flooring is a floor item in Animal Crossing: New Horizons.
The tatami flooring can be obtained from Nook's Cranny for

 2,200 Bells.
This item appears in the homes of

Blanche and

Snooty as the default flooring.
In Happy Home Paradise, this item is unlocked for use in designing when doing a vacation home request for

Annalisa,

Blanche,

Buzz,

Canberra,

Flip,

Genji,

Greta,

Hugh,

Ken,

Shino, and

Wendy.
After unlocking this item in Happy Home Paradise, the item can be purchased from Wardell's catalog for

 2,000 Poki.
Appearance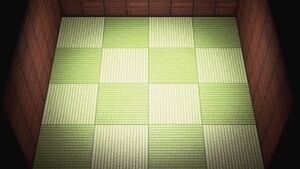 The tatami flooring resembles traditional Japanese tatami mats in green and white, laid down in alternating directions. When stepping on the floor, the tatami flooring produces a mat-textured sound.
References