White Delicate-Blooms Wall (New Horizons)
From Nookipedia, the Animal Crossing wiki
| | | |
| --- | --- | --- |
| | White Delicate-Blooms Wall |  #662 |



Buy price
Sell price
 1,900 Bells
 1,700 Poki
 475 Bells
Obtain via
 Nook's Cranny

HHA themes
Expensive / Living Room
HHA points
151
Colors

Names in other languages

 

しろいこばながらのかべがみ

 

白色碎花壁纸

 

白色碎花壁紙

 

하얀 잔꽃무늬 벽지

 

mur à fleurs délicates blanc

 

mur à fleurs délicates blanc

 

pared flor delicada beis

 

pared flor delicada beige

 

muro a fiori delicati bianco

 

белая стена в цветочек

 

Weiß-Floraltapete

 

witte rozenlambrisering
The White Delicate-Blooms Wall is a wallpaper item in Animal Crossing: New Horizons.
The White Delicate-Blooms Wall can be obtained from Nook's Cranny for

 1,900 Bells.
This item appears in the homes of

Zoe as the default wallpaper.
In Happy Home Paradise, this item is unlocked for use in designing when doing a vacation home request for

Bluebear,

Caroline, and

Gigi. The item can also be unlocked when tasked by Lottie to design the hospital.
After unlocking this item in Happy Home Paradise, the item can be purchased from Wardell's catalog for

 1,700 Poki. Additionally, it is the default wallpaper that appears in the right room of Photopia.
Appearance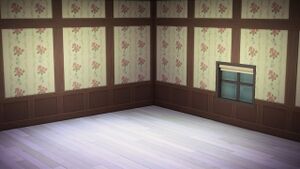 The White Delicate-Blooms Wall has dark brown wooden paneling all around the bottom third half of the wall. Strips of the same type of wood reach vertically to the top and as well as a strip of horizontal wood, which lays just before the top of the wall and so creates smaller rectangles above the larger ones. These rectangle partitions contain an off-white yellow wallpaper with tiny pink blooming roses in groups of three. In addition to the roses, there are two smaller cosmos flowers on top and at the bottom, aloung with a grass border surrounding the rose clump. Each iteration of this pattern is laid in rows of two inside each rectangle. The same is for the smaller rectangles up top. The windows are square with a dark brown frame, a vertical rail down the center of the window, and a rolled-up shade at the top.
References