List of villager IDs (Animal Crossing)
From Nookipedia, the Animal Crossing wiki
The following is a list of villager IDs in Doubutsu no Mori, Doubutsu no Mori+, Animal Crossing, Doubutsu no Mori e+, and Dòngwù Sēnlín.
Villagers are internally identified by the game using a numbered system. This is a similar system to the one used by later games, but in a different order. IDs also use hexadecimal numbers instead of decimal. Villagers are listed in the order they were added to the game; thus, while many species are grouped together in alphabetical order, not all are together.
While villagers already in the game use the same system, it is unknown villagers introduced in Doubutsu no Mori e+ fit with this system, due to their villager data being stored on e-Reader cards, which is then assigned to blank villager "slots" when scanned rather than being coded in the base game. Due to being excluded from the later system, this means it is unknown if the six e+ promotional villagers (Nindori, Pierre, Bow, Meow, Shoukichi and Shinabiru) have been assigned IDs at all.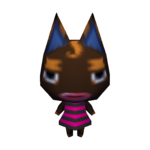 The absence of a villager with the ID BEA3 indicates there may have been a bear villager scrapped during development.
An unused villager with the internal name CAT13 was found in leaked development files for Doubutsu no Mori. These files use decimal numbers for IDs, so the corresponding hexadecimal ID is CATD, which was given to Ankha when she was added in Animal Crossing. In the system used by later games, cat13 is Stinky's internal name.
See also
[
edit
]