Nookipedia:April Fools'
From Nookipedia, the Animal Crossing wiki
For the in-game event itself, see April Fools' Day
Since 2016, Nookipedia has been participating in the annual April Fools' Day event via ways of hoaxes and jokes. The following are a list of jokes that Nookipedia has used in the past.
In 2016, Nookipedia went for a subtle joke by having its skin constantly change color and season for each page load.
Falling in line with the Nintendo Independent Wiki Alliance idea of transforming to a "Sony Independent Wiki Alliance", Nookipedia became Toropedia, inspired by PlayStation's Japanese mascot Toro Inoue.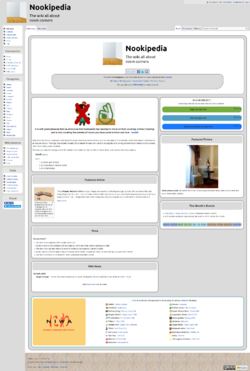 Taking the terminology of nook (a corner, as in a room), Nookipedia became a wiki about nooks instead of the Animal Crossing series.
In 2019, Nookipedia made an hoax announcement of Animal Crossing: amiibo Festival: Happy Home Designer, a combination of Animal Crossing: Happy Home Designer and Animal Crossing: amiibo Festival. This coincided with a theme change, both with its site theme and main page.
In 2021, Nookipedia participated with various Nintendo Independent Wiki Alliance wikis on the Edit-by-Pigeon program hoax, adding a site notice that Brewster would let editors deliver edits to the wiki's staff via letters.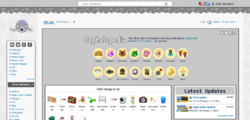 To coincide with Cephalobot's birthday (April 1), Nookipedia announced that it had been seized by Cephalobot to become Cephalopedia. These changes not only affected the main page and certain articles and templates, but also the site's theme, causing the main site to become a monochrome gray and having any rounded edges be replaced with sharp, squared edges.