List of promotional contests and sweepstakes
From Nookipedia, the Animal Crossing wiki
This is a list of official promotional contests, giveaways, or sweepstakes held by Nintendo for the Animal Crossing series.
Animal Crossing

[

edit

]
Animal Crossing Pioneers

[

edit

]
On August 7, 2002, Nintendo of America announced a contest whereby 125 teams of two would be selected to receive advanced promotional copies of Animal Crossing.[1] The submission deadline for the contest was August 12th. To be considered for selection, applicants had to submit a written response of 50 words or less explaining why they should chosen as Pioneers. Those selected received a special Animal Crossing disc marked "for promotional use only", along with a 59 block Memory Card and a promotional Animal Crossing calendar. Pioneers received the game a month early and were expected to help Nintendo generate online buzz in advance of the title's release. Pioneers were also given exclusive access to their own web forum[2] where they could discuss amongst themselves as well as provide feedback to Nintendo representatives. At the end of the experience, the Pioneers were invited to an online chat with a few of the members of the game's localization team.[3] An analysis of the standard and promotional game disc concluded that the two were byte identical,[4] meaning that no changes were made to the final version as a result of Pioneer feedback. The promotional copy and calendar have since become collector's items, selling for over $500 together on eBay as of March 2014.[5]
"Deck Out Your Room" Sweepstakes
[
edit
]
On August 30, 2002, Nintendo of America initiated the Animal Crossing "Deck Out Your Room" Sweepstakes. One grand prize winner received the following prizes:
A Panasonic Triple Play 27" CRT TV with a built in VCR and DVD player
A Panasonic ShockWave portable CD player
A pair of Panasonic BrainShaker headphones
Two WaveBird controllers
Five Nintendo GameCube Games of Nintendo's choosing
Five Game Boy Advance games of Nintendo's choosing
A one-year subscription to Nintendo Power
Five first prize winners received a Nintendo GameCube, a copy of Animal Crossing, and a one-year subscription to Nintendo Power.[6]
The sweepstakes lasted from August 30, 2002 to October 15, 2002.[7] Those who registered for it received an Animal Crossing screensaver.[8]
Animal Crossing: New Leaf

[

edit

]
Miiverse Art Academy Animal Crossing drawing event

[

edit

]
On February 20, 2014, the director of Animal Crossing: New Leaf, Aya Kyogoku, announced an event on Miiverse where players could enter drawings created in Art Academy SketchPad. The theme of the event was "The Four Seasons of Animal Crossing". There were five categories; Spring, Summer, August, Winter and honorable mentions. The winning drawings were chosen based on the skill, artistic expression, originality, and creativity of the author.[9] In the end, four entries made it into each category with the exception of the honorable mentions category, which had 12.[10] Some winning entries would later be shared onto social media websites such as Twitter.[11] The event ended on March 16, 2015.
Animal Crossing: Happy Home Designer

[

edit

]
Happy Home Network Design Contest
[
edit
]
This contest was held monthly in Animal Crossing: Happy Home Designer from October 2015 to May 2017. Players were given a theme which they would then have to build an in-game design related to the theme.[12] Players could submit and vote on designs during the first half of each month, and the best designs were displayed on the Happy Home Network in the latter half. The prizes for winning the monthly event were special items similar to Distributed items.
US Twitter contest
[
edit
]
In this contest, players were tasked with posting various house interior and exterior designs created within Animal Crossing: Happy Home Designer to Twitter using special hashtags.The first week's entries had to include the interior and exterior of any household within the game. The second week had the players design an interior based on a school theme. Each week would have two winners, four in total. The week one winners would receive a New Nintendo 3DS system with a full game download of Happy Home Designer. The week two winners would receive three Animal Crossing series 1 amiibo card packs. The first week ran from October 5 through October 9, 2015 while the second week ran from October 12 to October 16, 2015.[13]
UK Twitter contest
[
edit
]
Similar to the contest in the United States, Nintendo UK held a six-week contest where players could submit a screenshot of an in-game design based on a theme given by Nintendo UK. The contest began on October 23 and ended on December 3, 2015. Players had to submit their designs through Twitter using the hashtag "MyACHappyHome". The winners would receive one Animal Crossing series 1 amiibo pack and an official Animal Crossing series 1 amiibo card Collector's Album.[14]
Animal Crossing: New Horizons

[

edit

]
Fall Sweepstakes
[
edit
]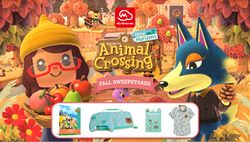 The Animal Crossing: New Horizons Fall Sweepstakes was a promotional event held on My Nintendo from October 2020 to November 10, 2020.[15] Members were able to use Platinum Points to enter the sweepstakes for a chance to win a set of five prizes.[16] Prizes include:
Animal Crossing: New Horizons Official Companion Guide
PowerA Enhanced Wired Controller for Nintendo Switch – Animal Crossing
PowerA Protection Case for Nintendo Switch or Nintendo Switch Lite – Animal Crossing
Penny Arcade Animal Crossing: New Horizons Pin set
Tom Nook Hawaiian shirt (Nintendo Store exclusive)
References
[
edit
]