Pironkon
Jump to navigation
Jump to search
| | | |
| --- | --- | --- |
| | Pironkon |   |



Species
Personality
Gender
Alligator
Lazy
Male
Star sign
Sagittarius
Catchphrase
"パヨマケ"
Clothing
Blue Aloha Shirt
Main appearances
Other appearances
Name in other languages


 ピロンコン
 N/A
 N/A
 N/A

 N/A
 N/A
 N/A
 N/A

 N/A
 N/A
 N/A
 N/A

Phrase in other languages


 パヨマケ
 N/A
 N/A
 N/A

 N/A
 N/A
 N/A
 N/A

 N/A
 N/A
 N/A
 N/A
Pironkon is a lazy alligator islander in Doubutsu no Mori e+. He can only move to the player's island if his e-Reader card is scanned.
Characteristics
[
edit
]
Appearance
[
edit
]
Pironkon is a chocolate brown alligator with tan outlines of circles and filled in circles around his body. His eyes are closed with white eyelids that look like slits. When surprised, however, Pironkon's eyes are opened, revealing orange, robotic eyes. Instead of blinking, Pironkon's eyes appear to rotate, like screws, and also display an "X" shape when yawning. Two white fangs stick out from his mouth, like all the other alligators.
Personality
[
edit
]
Below is a brief description of the lazy personality. For more information, click here.
Pironkon is a lazy islander, enjoying talk of sleeping, eating, and general relaxing. These traits make Pironkon easy to befriend, and he will often ask the player to do tasks for him. In addition to this, Pironkon gets along well with normal and peppy villagers, but will offend or confuse snooty or jock villagers, respectively, due to opposite lifestyles.
Villager information
[
edit
]
In Doubutsu no Mori e+

[

edit

]
Species
Gender
Personality
Alligator
Male
Lazy
Star sign
Sagittarius
Catchphrase
パヨマケ
Default Clothing
Blue Aloha Shirt
Default Umbrella
Leaf Umbrella
Favorite Clothing Style (e+)
Strange
Least Favorite Clothing Style (e+)
Subtle
Live Song Gift (e+)
Imperial K.K.
In Doubutsu no Mori e+

[

edit

]
In Doubutsu no Mori e+, Pironkon's house does not have any furniture. He will request the items listed below from the player, and when given, he will use them to decorate his house.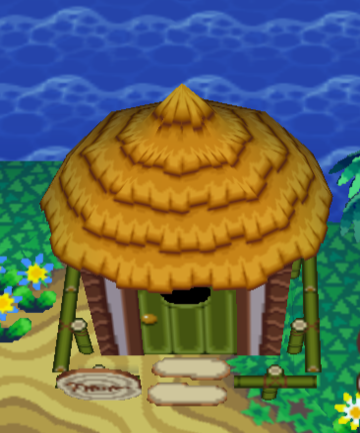 Items:

 

Leaning Stone

 

Lunar Lander

 

Lunar Rover

 

Robo-Clock

 

Robo-Stereo

 

Spaceman Sam

 

Standing Stone

 

Stone Couple

Wallpaper:
 

Industrial Wall

Floor:
 

Steel Flooring

Music:
Gallery
[
edit
]
Names in other languages
[
edit
]
ピロンコン


Pironkon

-
ピロンコンPironkon-UnknownUnknownUnknownUnknownUnknownUnknownUnknownUnknownUnknownUnknownUnknownUnknownUnknownUnknownUnknownUnknownUnknownUnknownUnknownUnknownUnknownUnknownUnknownUnknownUnknownUnknownUnknownUnknownUnknownUnknownUnknownUnknown
See also
[
edit
]