Umbrella Octopus
Jump to navigation
Jump to search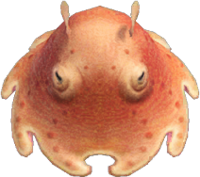 Real-world info
Name: Opisthoteuthis californiana
Family: Opisthoteuthidae
Main appearances
Other appearances
Name in other languages
メンダコ
扁面蛸
Pieuvre parapluie
Pulpo paraguas
Polpo ombrello
Опистотейтис
우무문어
扁面蛸
Pieuvre parapluie
Pulpo paraguas
Regenschirm-Oktopus
Depressa-inktvis
The Umbrella Octopus is a type of sea creature in the Animal Crossing series, introduced in Animal Crossing: New Horizons in the 1.3.0 Free Summer Update. It also appears in Animal Crossing: Pocket Camp as an event fish (not a sea creature) that was available for a limited time during Fishing Tourney: Fintastic, from November 12 to November 19, 2020.
Catch details
[
edit
]
In New Horizons

[

edit

]
Time of year
North: Mar – May; Sep – Nov
South: Mar – May; Sep – Nov
Time of day
All day
Shadow size
Small
Shadow movement
Fast
Rarity
Spawn requirement
Catch 40 total sea creatures
Selling price
 6000 Bells
Furniture size
Umbrella OctopusI got an umbrella octopus! Too bad I'm already soaked.Mar – May; Sep – NovMar – May; Sep – NovAll daySeaUnknown4060001.0x1.0 No No No No Yes Yes Yes Yes Yes Yes No No No No No No Yes Yes Yes Yes Yes Yes No No
In Pocket Camp

[

edit

]
| | |
| --- | --- |
| Event availability | Fishing Tourney 32 (Fintastic) |
| Location | Saltwater Shores |
| Shadow size | Sparkling |
| Fish size | 21.4 cm – 34.6 cm |
| Rarity | ★★★ |
| Catch rate | Event only |
| Selling price |  N/A Bells |
| Request reward |  N/A Bells |
N/AFishing Tourney 32 (Fintastic)Saltwater ShoresSparkling21.4 cm – 34.6 cm★★★Event onlyN/A
Donating to the museum
[
edit
]
In New Horizons

[

edit

]
"My feathers, could there be a more adorable sea creature than the umbrella octopus? I daresay not! These deep-sea octopuses are on the smallish side and use the cutest ear-like fins to flutter about. Meanwhile, it's the web stretched between their tentacles that gives them their name. Hoo, it's true! With arms stretched wide, they look for all the world like an umbrella! Though surely the last thing the umbrella octopus wants is to stay dry." — Blathers
Gallery
[
edit
]
Real-world information
[
edit
]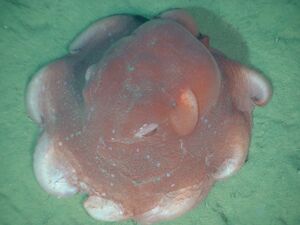 The umbrella octopus, also called flapjack octopus, usually appear dark red. Their maximum size is 20 cm (7.9 in) mantle length. They have eight jointed legs which are affixed together in an umbrella shape. They have a gelatinous body, which spreads into a parachute shape when maneuvering through dimly lit water. The flapjack preys on small fishes and planktonic crustaceans. They swim by moving their fins, pulsing their webbed arms, pushing water through their funnel for jet propulsion, or all three at once. Their depth range is: Para-larvae 200 m (660 ft), adults 500–1,500 m (1,600–4,900 ft).

More information on this topic is available at Wikipedia.
Names in other languages
[
edit
]
メンダコ


men-dako
Umbrella octopus (lit. "Flat octopus")