User:Clv309/Sea Bass
From Nookipedia, the Animal Crossing wiki
"I caught a sea bass! No, wait-it's at least a C+!" —New Horizons

Real-world info
Name: Dicentrarchus labrax
Family: Moronidae - Temperate basses
Main appearances
Other appearances
Names in other languages
Unknown
Unknown
Unknown
Unknown
Unknown
Unknown
Unknown
Unknown
Unknown
Unknown
Unknown
Unknown
The Sea Bass (スズキ, Suzuki) is the most common oceanic fish in the Animal Crossing series. It has a large shadow that is often confused with rare fish, such as the tuna, and is found all day, at any time of the year. In Animal Crossing, however the Sea Bass does not appear from mid-August to approximately the 10th of September.[1] Therefore, during the first ten days of September, only red snappers, barred knifejaws and, during rain, coelacanths will appear in the ocean. This allows the player to earn large amounts of Bells in a short time.
Donating to the museum
Like all fish and insects in Animal Crossing, the Sea Bass can be donated to the museum by talking to Blathers, the curator. He will tell the player some information about it when the player donates it.
In Animal Crossing
"Even run-of-the-mill, common fish are valuable resources, you see. All part of the grand tapestry, wot! We will take excellent care of this fellow, oh yes. You can rest assured. Excellent care, indeed."
In Wild World
"The sea bass is a fleshy white fish with a rather delicate flavor, eh wot? It's tasty prepared any which way, but I recommend a non-traditional dish... Sashimi! Indeed, consume the fellow raw! You shan't be disappointed!"
In City Folk
"...Ah, hoo, the sea bass. In some parts of the world, these fish have a different name as juveniles. They change names once they mature, eh wot? What's more, these names can differ from region to region... It's almost as if the sea bass is some sort of secret agent, eh wot?'""
The Sea Bass will appear in the ocean fish tank located at the back of the aquarium section of the museum.
In New Leaf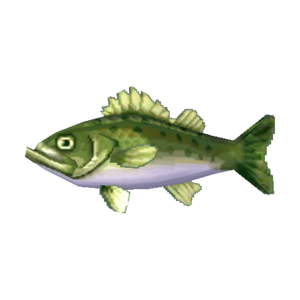 "Sea bass are famous for their delicious white meat as well as their large size. If they ingest something inedible, they open up their mouths and gills and violently shake their heads. This generally manages to expel the foreign material, though it has the added effect of looking rather odd. Much like their freshwater cousins, sea bass have a strong pull, making them a great challenge for anglers."
When given a Sea bass in the fishing tourney, Chip will say:
"I must say, when it comes down to it, sea bass are delicious, no matter how you prepare them. And hey, they're pretty good even if you don't do anything to 'em! YUM!"
In New Horizons
When the player donates a Sea Bass, Blathers will say this about it before thanking the player for his/her donation:
"Sea bass is a name given to a variety of different species of saltwater fish. They are a varied bunch with some as small as four inches and some as staggeringly ginormous as eight feet! "Sea bass" is a bit pedestrian, though. Many species have better names, such as "redbanded perch." Or the delightfully whimsical dusky grouper! Or the potato cod! WILL NO ONE THINK OF THE PINK MAOMAO?!"
Encyclopedia information
Wild World
City Folk
New Horizons
''You can use a lure to catch this fish in the sea. Not an easy fish to bring in!"
I caught a sea bass! No, wait-it's at least a C+!


Size- About 100 cm
Habitat- Ocean
Season- All year
Sell Price- 400 bells
Further information
The Japanese sea bass is a fish found in the western Pacific Ocean. They are popular in food and are a popular target among Japanese anglers.
Trivia
Each game's catch quote jokes about how common they are.
Names in other languages
References