User:Dorsal Axe/Sandbox/Persimmon
From Nookipedia, the Animal Crossing wiki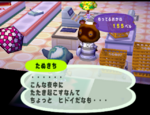 In Doubutsu no Mori e+, Tom Nook's store (pictured) can be entered after-hours by hitting the entrance three times with a shovel or an axe. Tom Nook will appear in his pajamas, purchase prices are increased by 17%, and sell prices are decreased by by 70%.
The Animal Crossing series was originally developed as an asynchronous multiplayer role-playing game (RPG) but the town life aspect was found to be more compelling.
Monkey villagers could only be legitimately obtained in Wild World for a limited time period. The player had to use Tag Mode near a DS Download Station.