User:Peteyking64
From Nookipedia, the Animal Crossing wiki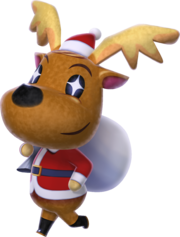 Place holder until I get my signature picture in!
Gender:Male
Real Name:ΓΓΓΓΓΓΓΓ...
Age:What's the question again?
Favorite Character's: Quillson, Alfonso, Stitches, Big Top, Stinky, Claudia, Ribbot, Bam, Kid Cat, Al, Cheri, Cherry, Savannah, Elvis, Gala, Timmy & Tommy, Tom Nook, Lyle, Lloid, Luna, K.K. Slider, Booker
Least Favorite Character's:Tabby, Crazy Redd
Friend's:None so far!
Animal Crossing Games I own: Animal Crossing: New Leaf, Super Smash Bros. Brawl
Welcome!
Hello! I'm a Nintendo gamer. I hate Xbox & Playstation! I have only one Animal Crossing game which is the current one. It's totally worth $30 I must say & I would personally rate this game a 9.8 out of 10. Anyway, I probably like every Nintendo series. Animal Crossing really interests me a lot lately along with Mario series & Kirby Series. I can't wait for the next Animal Crossing game!!
* Indicates the first 5 villagers that lived at my town at the start

Villagers Currently Living In My Town
Villagers Who Moved Away
Villagers I Want To Move In