User:SuperAlpaca/Sinkvile
From Nookipedia, the Animal Crossing wiki
Main page ~ Talk ~ Contributions ~ Edit Count ~ Sandbox ~ To Do List
[Animal Crossing: Xukinni ~ Lycia] ~ [Dōbutsu no Mori e+: Sushi] ~ [Wild World: Pieville ~ Cakeland ~ Crater] ~ [City Folk: Sinkvile ~ Nutmeg ~ Cloud 9] ~ [New Leaf: Crimea]
Forest Life ~ Signature History ~ Game Suggestions ~ Favorite quotes
---
Sinkvile is my first town I ever created for an Animal Crossing series game; it is an Animal Crossing: City Folk town.
Basic Info
Sinkvile was my first town from the Animal Crossing series series, I got the game for Christmas, 2008 and started playing mid-January. The native fruit are oranges, but we have all the fruits. The town has 3 bridges, a fountain, and a windmill. The museum has a complete fossil and fish exhibit, with only 2 more bugs left! There was a period when there were no lazy villagers in town.
Map
The orange house is my house. The house to the north is Savannah and south is Francine. The house near nooks between the 2 bridges is my father, Dave, and he is a huge fishing fan and has a small garden on either side of his house. West of his house is Sterling's. Tutu is southeast of Dave's house. On the beach, all alone, is Harry with his bonfire in his bathroom... Next is my mother, Carol, and her neighbors below town hall. Near the bridge is Marina, then a small garden between her and Genji, with a path between my mothers house and their house. In the southeast corner of town is Limberg's layer. The northeast section with the museum and The Able Sisters is where Zel lives with his neighbors, Bob, to the south, and Tabby, to the east.
The Characters
Blaine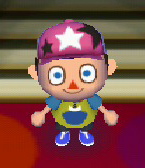 Bugs: 61/64
Fish: 62/64

Friend Code:
4683-3137-6696

Need:
Triple B
Triple B is the name of my shop. The name comes from the abbreviation of the store name, Blaine's Bargain Basement.
Carol
Bugs: ?/64
Fish: ?/64
My mom, she rarely plays and needs many bugs and fish.
Dave
Bugs: ?/64
Fish: 62/64
My dad, he plays daily and is very close to a golden fishing rod and still needs some bugs.
Zel
Bugs: ?/64
Fish: ?/64
Rarely plays, used mainly for second gyroid storage.
Residents
What I Think About Them
Bettina- HOLY S*** THAT UGLY CREEP IS IN MY TOWN!!!
Cesar- Freakshow...
Filbert- Nice, but what is he wearing?!
Gala- The day she moved in, I got a letter from a different Gala...
Genji- He is my favorite villager, he also stands in flowers for fun
Harry- He walks a ton
Mint- She is nice and squirrels are just plain awesome
Sterling- He is just plain awesome
Tabby- Kinda scary looking but nice
Wolfgang- Finally a good villager, we were getting bad ones... have in Pieville
Previous Residents
Euniceoriginal- *sniff*
Bunnieoriginal- She was okay, still miss her
Twiggy- Moved to friends town
Booneoriginal- TGI moving time
Kody- He brought me my B-day cake :c
Eloiseoriginal- She just didn't like my mother, she loved me, though
Grizzlyoriginal- Not the best, glad he left
Curly- Friend loved, finally moved to her town a few months later
Ed- How dare you leave, from friends aunt/uncle's town
Jay- My little muscle dude...
Derwinoriginal- He was a weird food dude...
Pango- Kicked out so there would be a lazy villager in town, she is also ugly
Daisy- A HUGE sweetheart and one of my favorites! How dare she move...
Ruby- Left randomly, one of my best friends...
Bob- Left randomly again, will be truly missed... *sniff*
Limberg- A grumpy dude who imports his food, gotta love him, curse him for moving, though
Savannah- Have in Pieville, will be missed, hopefully making room for a villager that just left a friends town...
Marina- Stayed in house, then we started gossiping about not liking her, so she came out more. the first to move in...
Francine- The last spot was filled with her, and she delivered my second b-day cake...
Tutu- Go to dictionary.com and search for "evil" and she will appear
Tiffany- Really nice, yet scary... she thought she was Tabby...
PARTY!!!
EVERYONE! Miranda is leaving! I walked into her house and her boxes are packed!!! Christmas dreams do come true... RayTalk 2 me 23:35, December 9, 2009 (UTC)
Gallery
Three Snails next to each other