Weldon
From Nookipedia, the Animal Crossing wiki
The subject of this page has no official English localization, so a translation of the original Japanese name is used instead.
| | | |
| --- | --- | --- |
| | Weldon |   |



Species
Personality
Gender
Bull
Cranky
Male
Star sign
Aquarius
Catchphrase
"ムーチョ"
Clothing
Blue aloha shirt
Umbrella
Retro umbrella
Main appearances


Other appearances

Phrase in other languages
Weldon (ウェルダン, Werudan?) is a cranky bull islander in Doubutsu no Mori e+. He can only move to Animal Island if his e-Reader card is scanned. His name is a pun on "well-done," a way of cooking steak. His catchphrase, mūcho (mucho), means "much" or "many" in Spanish, and is also a pun on "moo," the sound a cow makes. It is identical to Olaf's Japanese catchphrase.
Characteristics
[
edit
]
Appearance
[
edit
]
Weldon is a gray bull with red hair. He has a tan snout and yellow ringed horns.
Personality
[
edit
]
Below is a brief description of the cranky personality. For more information, click here.
As a cranky islander, Weldon has a suave, romantic nature prone to smooth-talking flirtation and nostalgically reminiscing about the past. In conversation, Weldon will often bring up the romance of the island's scenery while charming the player. His debonair and sweet but somewhat vain personality will often result in showing off his talents and experience in attempts to sing to or dance with the player. He asks the player for stylish furniture he can coordinate with in his island house to impress female visitors.
Villager information
[
edit
]
In Doubutsu no Mori e+

[

edit

]
In Doubutsu no Mori e+

[

edit

]
As an islander, Weldon's house in Doubutsu no Mori e+ will begin with only one furniture item, along with the exotic wall and bamboo flooring. He will request specific items for the player to give to him, which he will place in his house. After he places two items in his house, he will upgrade his wallpaper, and after he places five items, he will upgrade his flooring. Rowan requests for the same items as Weldon, although his house has different wallpaper and flooring.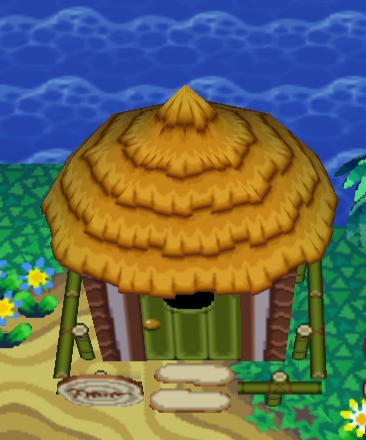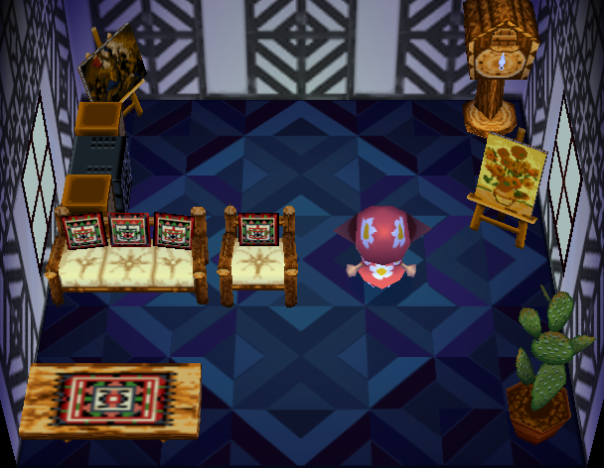 Card profiles
[
edit
]
Doubutsu no Mori e+ e-Reader card

[

edit

]
#053 ウェルダン (Weldon) -

Series 2

Gender:
Male
Clothes:
あおのアロハ
blue aloha
Star sign:
水瓶座
Aquarius
Favorite phrase:
ムーチョ
mūcho ("mucho")
Profile:
ころんだ時はすぐ手を差し出してくれます。泣いた時はハンカチをくれます。お腹が減った時はパンをくれます。優しいですね、ウェルダンくん。あ、でも女性に対してですけどね。
If you fall down, he'll immediately hold out his hand. If you cry, he'll give you a handkerchief. If you're hungry, he'll give you a piece of bread. You're very kind, Weldon-kun. Well, but only to women.
Favorite saying:
女ならでは夜が明けぬ
Dawn doesn't break without a woman
(Women are necessary to get things done)[1]
Gallery
[
edit
]
Names in other languages
[
edit
]
ウェルダン


Werudan
Weldon
See also
[
edit
]
References
[
edit
]