Town Pass Card
Jump to navigation
Jump to search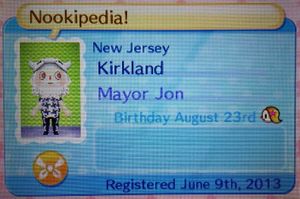 A Town Pass Card (abbreviated as TPC) is a player identification card in Animal Crossing: New Leaf. It is received from Isabelle after the player obtains property in the town, and is required in order to visit another player's town. The player can update the photo on the TPC in the Photo Booth on Main Street.
Features
After acquiring the TPC, the player can access his or her card by selecting the red tab in the bottom screen. During Wi-Fi communications, a TPC icon will appear beside the name of each player. Tapping the icon will display that player's TPC.
The front side of the card shows:
A customizable quote or greeting (32-character limit)
A picture of the player
The player's gender (represented by card color)
The player's geographic location, and state/province/region if available
The player's town name
Mayoral status and player name
Birthday and astrological sign
Date of TPC Registration
Dream Suite Address (when the mayor pays off the [[Public Works Project
The back side of the card shows all badges earned and acquired by the player.