Main Page
From Nookipedia, the Animal Crossing wiki
New in October

Nook Shopping events

Day of the Dead
Oct 25th — Nov 3rd

Critters in New Horizons
New in the Northern Hemisphere

New in the Southern Hemisphere

Latest Releases
News
Concert performance featuring DJ KK announced
1st Sep 2022

Nintendo has announced, as part of their
Nintendo Live 2022
event held at the
Tokyo Big Sight
live from on October 8th and 9th, the
DJ K.K PARADISE MIX!!
concert, with music from
Animal Crossing: New Horizons
. There will be 3 performances during the event, with the third performance broadcasting live on
YouTube
.
Nookipedia user promotion
22nd Jun 2022

New soundtracks
28th Apr 2022

Cephalopedia (April Fools)
1st Apr 2022

Nookipedia has been acquired by
Cephalobot
and has been rebranded as Cephalopedia.
NSO missions and rewards
1st Mar 2022
Featured Fanart
Every month, Nookipedia collaborates with the community to feature a new piece of fanart.

Check back in November for the next artwork!
Community Poll



What critters do you prefer to catch in New Horizons?
You voted for "Fish" on October 5, 2022 at 04:40. You can change your vote by clicking a different answer below.
There were 15 votes since the poll was created on 22:31, September 30, 2022.
poll-id FCEFDB2347CD41DF91E9B612BFDD099C

Trivia
Did you know?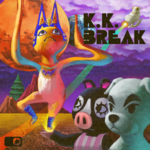 Today's Birthdays
Happy Birthday!
Today is Elmer's birthday!
Affiliates