Main Page
From Nookipedia, the Animal Crossing wiki
New in August

Nook Shopping events

Cowboy Festival
Jul 15th — Aug 15th

Cowherd & Weaver Girl Day
Jul 26th — Aug 4th
Obon
Aug 10th — Aug 16th
Tomato Festival
Aug 20th — Aug 31st

Critters in New Horizons
New in the Northern Hemisphere

New in the Southern Hemisphere

Latest Releases
News
Nookipedia user promotion
22nd Jun 2022

New soundtracks
28th Apr 2022

Cephalopedia (April Fools)
1st Apr 2022

Nookipedia has been acquired by
Cephalobot
and has been rebranded as Cephalopedia.
NSO missions and rewards
1st Mar 2022
Nintendo 3DS/Wii eShop discontinuation
15th Feb 2022
Featured Fanart
Every month, Nookipedia collaborates with the community to feature a new piece of fanart.

Check back in September for the next artwork!

Trivia
Did you know?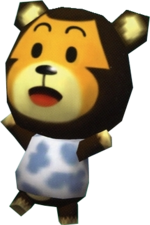 Today's Birthdays
Happy Birthday!
Today is Tabby's birthday!
Affiliates