Jock
From Nookipedia, the Animal Crossing wiki
"He's very energetic and active. I'd consider him a mood maker here in <town name>!"
— Isabelle, talking about a jock villager, Animal Crossing: New Leaf
Jock[1][2] is a male villager personality type in the Animal Crossing series. Jock villagers are energetic and have an interest in physical fitness and activity.
As of the release of Animal Crossing: New Horizons, there are a total of 79 jock villagers across the series,[nb 1] making it the most common personality; 57 appear in New Horizons. In New Horizons, a jock is always one of the two starting villagers on the player's island.
Characteristics
[
edit
]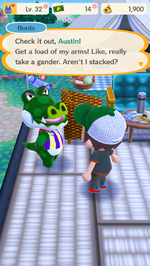 Behaviors
[
edit
]
Jocks are often depicted as energetic and obsessed with sports, talking frequently about their love of sports and sporting progress. In Animal Crossing: New Leaf, they speak with loud, shouting voices, and often use slang such as "bro" (as in "You're so cool, bro!"), "hit me up," or "yo." Stereotypically, they are also unintelligent, calling the brain "the Brian" and failing to grasp the concept of the game "rock, paper, scissors." In addition, jocks are also slightly overbearing in their interests, often obsessively asking the player if they are training "like a madman." When jocks get sad, they say something like "I'm just sweating through my eyes!" They do not worry so much about fashion. However, the jock villagers are also brother-like when befriended, giving pep talks to the player and appearing competitive toward them and other villagers when they partake in town events.
In Animal Crossing, jock villagers go to sleep at 1:00 AM and wake up at 5:30 AM. In Animal Crossing: Wild World and Animal Crossing: City Folk, they go to sleep at 2:00 AM and wake up at 6:30 AM. In Animal Crossing: New Leaf, they go to sleep at 12:00 AM and wake up at 7:00 AM. In Animal Crossing: New Horizons, they usually go to sleep at 12:30 AM and wake up at 6:30 AM.
Relationships
[
edit
]
See also: Jock conversations
Jock villagers find it difficult to get along with most villagers, as their overbearing personalities tend to fend off most villagers. For instance, lazy villagers have an opposite lifestyle centered around relaxing and eating, leaving the jock villager confused and unable to talk if a conversation between them ever occurs. In addition, snooty villagers will be outright offended by jocks when they question the fitness of snooty villagers, which directly insults the snooty lifestyle of upclass fashion and eloquence. Cranky villagers will also be annoyed by the hyper nature of jock villagers, but sometimes they do get along.
Despite this, jock villagers can still get along well with peppy villagers, as both have energetic, hyper personalities, as well as normal villagers, who are open to all personalities. Jock villagers will also admire the tough, resilient nature of big sister villagers, and will be amused by smug villagers, who have a sense of humor understandable by jocks.
Below are some (not all) quotes made by jock villagers.
"Tadaaaa! Check out these spiffy basic duds, bro! But what does "basic" really mean? I'm starting to wonder if I have any fashion sense..."
"It's go time for me today! I'm always at full speed, no matter what the weather is like!"
"Hey, <player>! Check me out! …No, I'm not talking about my clothes! I wanted you to appreciate my rippling muscles! I think of clothes as the icing on the scrumptious cake that is my jaw-dropping physique! Haha!"
"<player>! Big favor for you! The other day I set a world record for the 100-meter dash. But no one was there to see it! So if you could go ahead and spread the news, that would be great! Thanks, bud! <catchphrase>!"
"Man, I need a jogging buddy! I need someone who can take off for a run at the drop of a hat! Someone I can just be myself with! Like <male villager> and <male villager>! That's exactly what I need! Ha ha! I can't imagine the two of them jogging together, though!"
Jock villagers
[
edit
]
Current
[
edit
]



Dialogue
[
edit
]
Excluding species that exclusively contain female villagers, jock is tied with snooty as the personality with the least amount of species that have never received a villager with said personality, at one species each. The only species without a jock villager is the kangaroo.
No jock villagers have the fashion hobby in New Horizons.
Names in other languages
[
edit
]
はきはき


Hakihaki
Briskly

---

운동광


Undonggwang
Exercise Enthusiast

---

Спортивный


Sportivnyy
Sporty

---

Sportlich[3]
Sportive

---

Atlético[nb 2][4]
Athletic

---

Sportif[5]
Sporty

---

Sportivo[6]
Sporty
↑ Beginning in Animal Crossing: New Leaf, three villagers who have the jock personality in previous games had their personalities changed. If these villagers are counted, there are a total of 82 jock villagers across the series.
↑ Deportista (Sportsman) in the first edition of the book.
References
[
edit
]