Hamlet
Jump to navigation
Jump to search


Species
Personality
Gender
Hamster
Jock
Male
Birthday
May 30th
Quote
"The ear's the thing."
Catchphrase
"hammie"
Clothing
Big-Star Tee
Main appearances
Other appearances
Name in other languages


 ハムスケ
 햄스틴
 Amleto
 Hamid

 哈姆
 Jojo
 Bombo
 Hamlet

 哈姆
 Jojo
 Bombo
 Гамлет

Phrase in other languages


 ハム
 햄햄
 puff pant
 twirps

 火腿
 chicots
 chucufá
 hammie

 火腿
 chicots
 chucufá
 хомячок
Hamlet is a jock, hamster villager in the Animal Crossing series. He first appears in Animal Crossing: New Leaf. His name refers to his appearance as a small hamster, and is named after the Shakespeare character of the same name. His picture quote is an allusion to Prince Hamlet's quote, "The play's the thing." Hamlet's Japanese name is a portmanteau of "Hamster" and -suke, a common Japanese boys' name suffix.
Characteristics
[
edit
]
Appearance
[
edit
]

Hamlet is an orange-yellow hamster with tan accents on his mouth, limbs, and belly. He has a brown nose, brown hair on the top of his head, and has rounded ears, with a bright-blue inner coloration.
Personality
[
edit
]
Below is a brief description of the jock personality. For more information, click here.
Hamlet has a jock personality, which means he often will talk about sports and athleticism with others. Jocks normally talk about working out, and if they are camping, Jocks often say they were running and running and ended up in the player's town. He will get along well with the player and most other villagers. He will not get along with, and is offended by, lazy villagers, since they oppose his sporty lifestyle and like their couch-potato lifestyle more.
Preferences
[
edit
]
In New Leaf

[

edit

]
Picture
The ear's the thing.
Biography
Siblings
Third of six
Skill
Limboing
Goal
Soccer player
Fear
Monster Mask
Favorites
Clothing
Basic
Official
Color
Orange
Coffee
Type
Blend
Milk
The regular amount
Sugar
Two spoonfuls
Ideal Gifts for Hamlet – Orange Basic
https://dodo.ac/np/images/5/5f/HamletPicACNH.pngThird of sixLimboingSoccer playerMonster MaskBasicOfficialOrangeBlendThe regular amountTwo spoonfuls
In New Horizons

[

edit

]
Ideal Gifts for Hamlet – Purple / Blue Simple and Active Items
https://dodo.ac/np/images/5/5f/HamletPicACNH.pngUnknownUnknownUnknownUnknownUnknownUnknownUnknownUnknownUnknownUnknown
Hamlet's house appears child-themed. It includes an Elephant Slide, a Mega Drilloid, some Bowling Pins, and a Sloppy Carpet. He also has a Kiddie Stereo that plays "K.K. Reggae."
In New Horizons

[

edit

]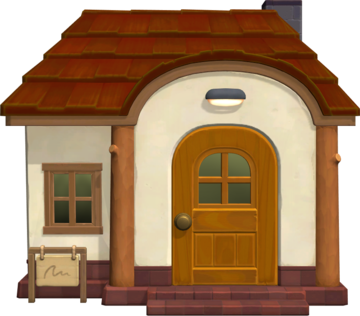 Other appearances
[
edit
]
In Pocket Camp

[

edit

]
Animal Crossing: Pocket Camp Character Info

Needed to Invite:

| | | | | |
| --- | --- | --- | --- | --- |
| | | | | |
| Soccer Ball | Soccer-Field Rug | Portable Toilet | Green Net | Metal Bench |

Friendship Rewards:


Big-Star Tee
and Sparkle Stone


Sparkle Stone


Soccer Goal
Craft Unlock
Level 7
Level 9
Level 15


Pic of Hamlet‎‎
and Sparkle Stone


Sparkle Stone


Sparkle Stone

Level 20
Level 25
Level 30

| | | |
| --- | --- | --- |
| Sparkle Stone | Sparkle Stone | Sparkle Stone |
| Level 35 | Level 40 | Level 45 |

Hamlet


He may be on the small side, but beneath Hamlet's pint-sized exterior beats the heart of a champion!

 Preferred theme:
 Primary reward:
 Wood
Card profiles
[
edit
]
Animal Crossing amiibo card

Card back

#275 Hamlet -

Series 3

| | |
| --- | --- |
| Type: | Hamster |
| Star sign: | Gemini |
| Birthday: | May 30th |
| Dice value: | 1 |
| Hand sign: | Rock |
Gallery
[
edit
]
Names in other languages
[
edit
]
ハムスケ


Hamusuke

-

---

햄스틴


Haemseutin

Hamsteen; Hamster + Teen

---

Hamlet

-

---

Hamid

Arabic name, meaning appreciative

---

Bombo

-

---

Jojo

A common nickname given to people with a name starting with "Jo"

---

Amleto

Hamlet
ハムスケHamusuke-햄스틴HaemseutinHamsteen; Hamster + TeenUnknownUnknownUnknownUnknownUnknownUnknownUnknownUnknownHamlet-HamidArabic name, meaning appreciativeBombo-UnknownUnknownJojoA common nickname given to people with a name starting with "Jo"UnknownUnknownAmletoHamletUnknownUnknown