Ace
From Nookipedia, the Animal Crossing wiki


Species
Personality
Gender
Bird
Jock
Male
Birthday
August 11th
[nb 3]
Favorite saying
"If you love something, let it go. Then chase it down. What were you thinking?"
Catchphrase
"ace"
Clothing
Spade Shirt[nb 1]
Kung-Fu Tee (Light Blue)[nb 2]
Main appearances
Other appearances

Phrase in other languages

 

是也

 

ma caille

 

figura

 

hopla

 

是也

 

ma caille

 

figura

 

фьють
Ace is a jock bird villager in the Animal Crossing series. He appears in Doubutsu no Mori, Animal Crossing, Doubutsu no Mori e+, and returns in Animal Crossing: New Horizons. His name's origin and catchphrase may come from the ace of spades, a symbol used in card games that is on his default shirt. He shares his catchphrase with Rod.
In New Horizons, Ace has the nature hobby and may be found reading a book pertaining to an item he is studying, which can be either flowers, bugs, fish, or fossils.
Characteristics
[
edit
]

Appearance
[
edit
]
Ace is a blue bird with a cream color on the inside of his body. He has red spots on his cheeks, an orange and yellow beak, and eyes that are half-closed.
Personality
[
edit
]
Below is a brief description of the jock personality. For more information, click here.
Ace has a jock personality, which means he will have a keen interest in sport and fitness, making him appear competitive and in some cases rude when talking to other villagers, usually criticizing their fitness. He will appear slow-witted and absent-minded when talking about deep, meaningful things. He will get along well with peppy villagers, but get confused by the choice of lifestyle followed by lazy villagers, who appear opposite to the jock personality. He may offend and upset snooty and cranky villagers.
Villager information
[
edit
]
In Animal Crossing

[

edit

]
In New Horizons

[

edit

]
Ace was added to Animal Crossing: New Horizons in the 2.0 Free Update on November 4, 2021.
Birthday
Personality
Catchphrase
August 11
Jock (A)
ace
Default clothing
Kung-Fu Tee (Light Blue)
Default umbrella
Two-Tone Umbrella
Default phone
   Blue
Final phone
   Polka-Dot Print - Fabric 10
Favorite styles
Active and Cute
Favorite colors

 

Aqua

and

 

Green

Hobby
Nature
Carried bag
Unknown
Book
Gardening/Bug/Fish/Fossil
Food
Unknown
Drink
Unknown
Popsicle
Unknown
Ideal clothing for Ace – Aqua / Green Active and Cute clothing
Villagers prefer clothing that matches any one of their favorite colors or styles.
For brevity, the following list only shows clothing that matches both favorite colors and one favorite style.
In Happy Home Paradise

[

edit

]
In Animal Crossing: New Horizons – Happy Home Paradise, Ace's house request is likely a reference to his e-Reader card, which refers to him as an avid fisherman.
Ace
Thought bubble
I want a place where I can

fish

to my heart's content.
Client's vision
The Fishin' Hole
Required items
Cooler Box
Outdoor Folding Chair
Yacht

Favorite song
 To the Edge
Unlocked items
Furniture:
Interior:
Clothing:
Other items:
In Doubutsu no Mori and Doubutsu no Mori+

[

edit

]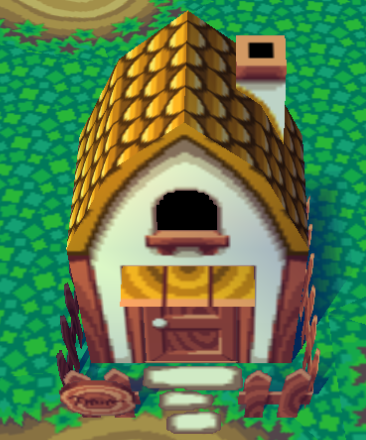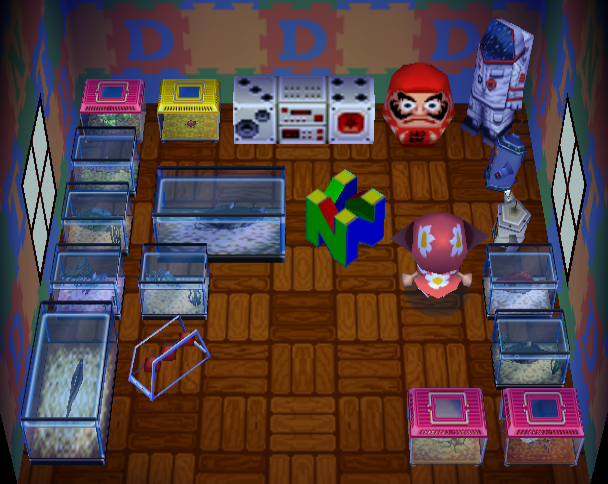 In Animal Crossing

[

edit

]
Ace's house features the same furniture layout as Aisle's in Doubutsu no Mori e+.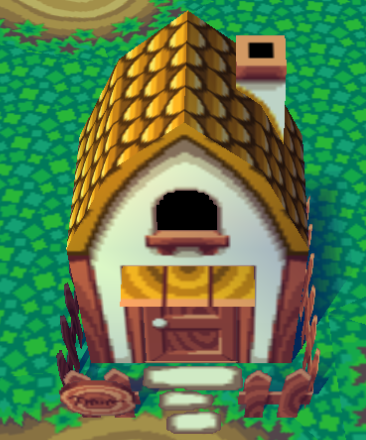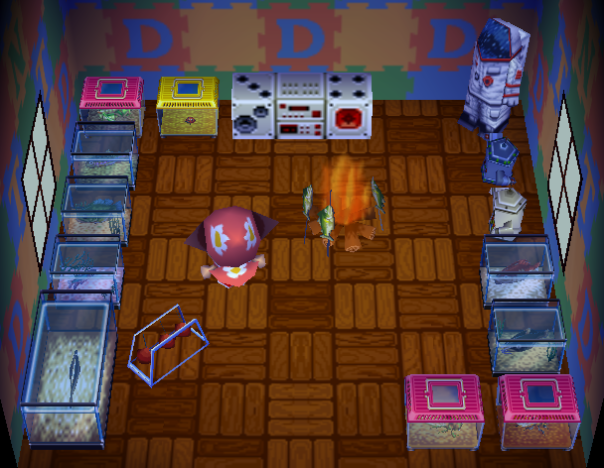 In New Horizons

[

edit

]
In New Horizons, if Ace is the one of the starter villagers, his house will have craftable items primarily from the Wooden Series.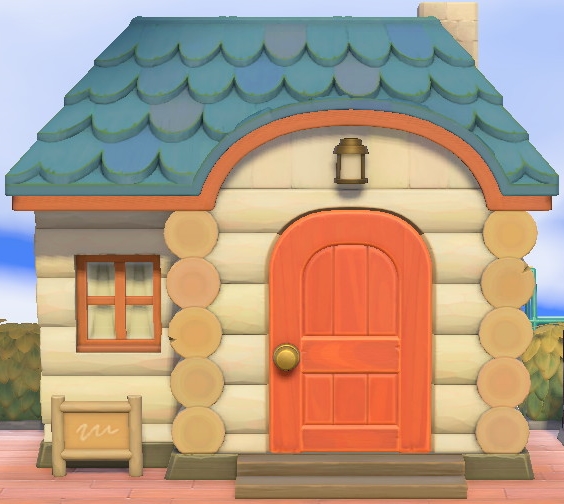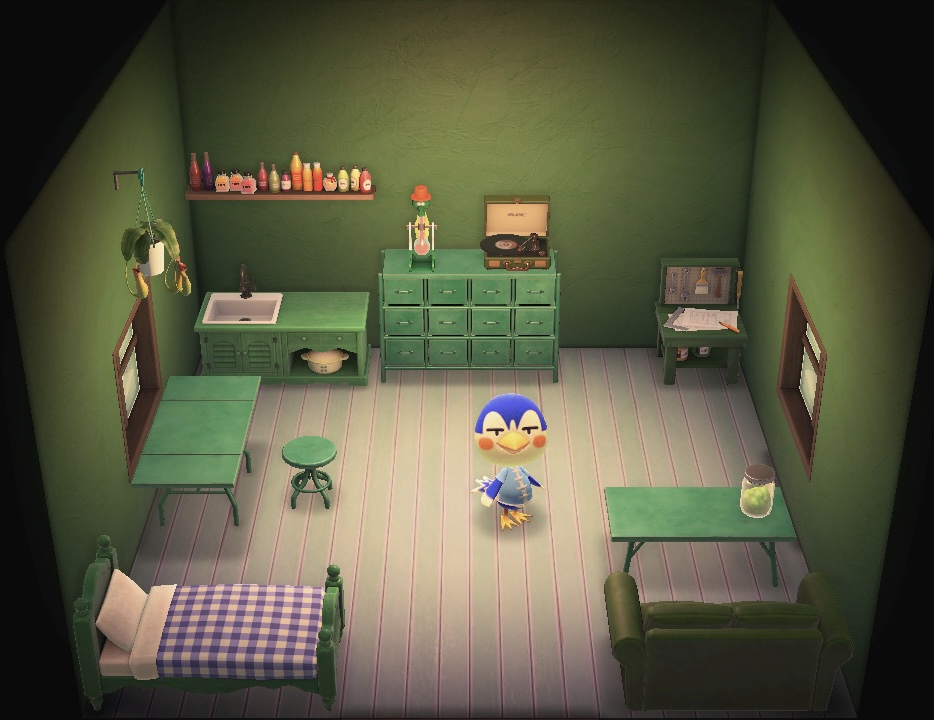 Card profiles
[
edit
]
Animal Crossing e-Reader card

[

edit

]
#230 Ace -

Series 4

Gender:
Male
Clothes:
Spade Shirt
Sign:
Pisces
Phrase:
ace
Profile:
Ace knows every fish-filled pond and puddle. But this avid fisherman never sells his catch or donates it to the museum. His tender heart compels him to release each wide-eyed prize back into the water.
Password:
u@AJlqpq5uAb7%
#tHqpaGhPHIJeB
amiibo card
[
edit
]
Gallery
[
edit
]
Names in other languages
[
edit
]
フェザー


Fezā
From Feather

---

페더


Pedeo
From Feather

---

飞翼

 (iQue)
Fēi yì
Flying wing

---




羽毛

 

/

 

羽毛


Yǔ máo
Feather, translation from Japanese name

---

Эйс


Eys
Same as his English name

---

Ace

-

---

Helge

Germanic name meaning "being dedicated to the gods"

---

Uno

One

---

Boumboum

-

---

Asso

Same meaning as his English name
See also
[
edit
]
↑ Animal Crossing
↑ New Horizons