Pippy
Jump to navigation
Jump to search
Pippy
 

 

ロッタ

 

로타

 

罗塔

 

Nadia

 

Pippi

 

Méloni

 

Lotta

 

Pippy

 

Пиппи

Birthday
June 14th
Phrase
li'l hare

More languages

 なのサ
 울랄라
 就这样啦
 就這樣啦
 ti' lièvre
 gnaf
 pipita
 requeboing
 hihi
 haasje
 зайчишка

Clothes
Ugly Shirt
Animal Crossing
Mint Gingham Tee[nb 1]
Wild World to New Leaf
Overall Dress (Green)
New Horizons
Saying
HOPPING HOTCAKES! (WW)
Fake it till you make it. (NL, NH)
Main Games
Other Games

Pippy is a peppy, rabbit villager in the Animal Crossing series. She has appeared in every game to date. Her name is a distortion of peppy, which reflects her bubbly and high-spirited personality.
Characteristics
[
edit
]
Appearance
[
edit
]

Pippy has a creamy yellowish beige body with dark blue bunny ears. The blue from her ears comes down to a zigzag pattern all the way around her head. The inside of her ears are light orange. Her legs are also dark blue and her arms are the cream color of her head. Her paws are peachy orange along with the inside of her ears. She has freckles right under her eyes and a distinctive bunny nose. She has a glorious and wide smile.
Personality
[
edit
]
Below is a brief description of the peppy personality. For more information, click here.
Pippy is a peppy villager, which means she will always appear to be in a good mood but rarely be mean. She will get along with other villagers including the player, making it easy to befriend her and gain her picture in Wild World. She will enjoy the usual hobbies, and may ask the player for bugs or fish that she finds cute. She will easily get upset, but due to a short attention span she will forget ever having the conversation. Like all peppy villagers, she dreams of becoming famous in the future and reads Ms. Nintendique, an unseen magazine read by snooty and peppy villagers in Wild World. She will get on well with jock (who are the male counterpart of peppy villagers), sisterly, normal, lazy, smug and other peppy villagers. Pippy may annoy snooty and cranky villagers with her upbeat personality.
Preferences
[
edit
]
In Wild World

[

edit

]
Ideal Clothing for Pippy – Fancy
https://dodo.ac/np/images/d/d3/PippyPicACNL.pngUnknownUnknownUnknownUnknownFancyStrangeUnknownUnknownUnknownUnknown
In City Folk

[

edit

]
Favorites
Clothing
Fancy
Strange
Furniture Genre
Trendy/Dignified
Furniture Series
Ranch
Furniture Color
Pink
Ideal Furniture for Pippy – Pink Trendy/Dignified
| Name | Price | Available From |
| --- | --- | --- |
| Super Toilet | 1,980 | Crazy Redd |
https://dodo.ac/np/images/d/d3/PippyPicACNL.pngUnknownUnknownUnknownUnknownFancyStrangePinkUnknownUnknownUnknown
In New Leaf

[

edit

]
Picture
Fake it till you make it.
Biography
Siblings
Eldest of nine
Skill
Debating
Goal
Superhero
Fear
Monster Mask
Favorites
Clothing
Basic
Flashy
Color
Pink
Coffee
Type
Blue Mountain
Milk
Lots
Sugar
Three spoonfuls
Ideal Gifts for Pippy – Pink Basic
https://dodo.ac/np/images/d/d3/PippyPicACNL.pngEldest of nineDebatingSuperheroMonster MaskBasicFlashyPinkBlue MountainLotsThree spoonfuls
In New Horizons

[

edit

]
Ideal Gifts for Pippy – Green / Brown Cute and Simple Items
https://dodo.ac/np/images/d/d3/PippyPicACNL.pngUnknownUnknownUnknownUnknownUnknownUnknownUnknownUnknownUnknownUnknown
In City Folk, Pippy's house incorporates much of the Backyard Theme including the Backyard Lawn and Backyard Fence. She has a sprinkler in the center of her house which can be turned on/off, a Hammock, Birdhouse, Mr. Flamingo, Mrs. Flamingo, and a backyard pool. She also has a Blue Bench, and Mountain Bike. K.K. Mambo plays if she has a stereo.
Pippy's house in New Leaf contains furniture from the Minimalist Series, including a Minimalist Dresser, a Minimalist Lamp and a Minimalist Table with a Revolving Spice Rack sitting on top of it. Her house contains kitchen-themed furniture, such as a Stove, a Refrigerator and a Kitchen Island. She also has a Chaise Lounge, a Small Magazine Rack, a Bromeliaceae and an Air Conditioner. She has the Blue-trim Wall as her wallpaper and the Blue Flooring as her carpet.
In New Horizons

[

edit

]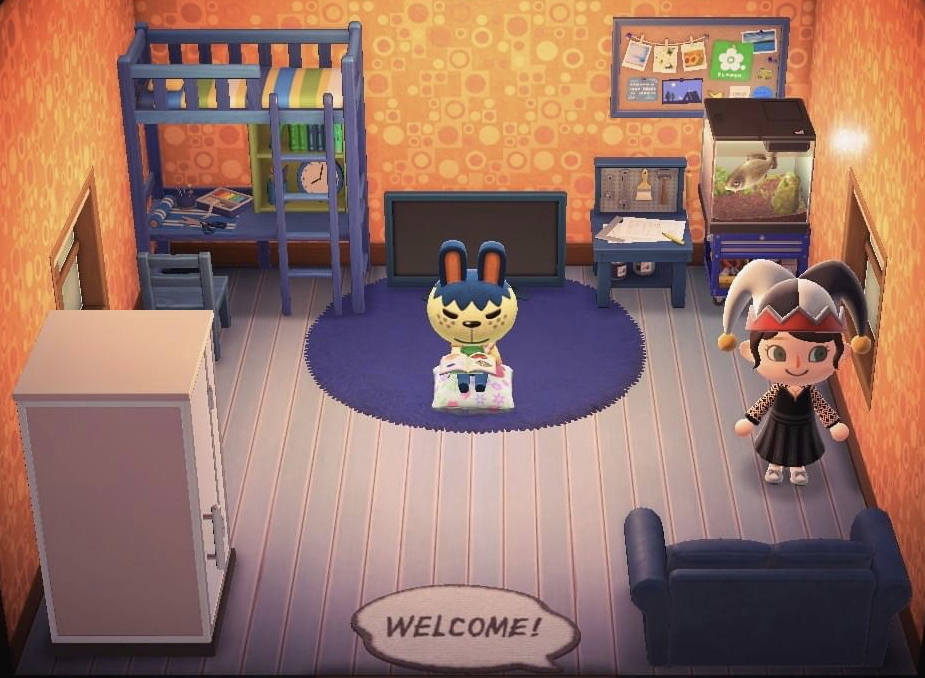 Style:
No style
Items:
Wallpaper:
 

Mod Wall

Flooring:
 

Blue-Paint Flooring

Music:
Drivin'
Other appearances
[
edit
]
In Happy Home Designer

[

edit

]
Happy Home Designer House Info

Pippy

| | |
| --- | --- |
| Type: | Rabbit |
| Client's Vision: | A striped room. |
| Required Items: | - |
| Favorite Song: | K.K. Salsa |
| Favorite Saying: | Fake it till you make it. |
Card profiles
[
edit
]
Animal Crossing e-Reader card

[

edit

]
Animal Crossing-e card

Card back

#261 Pippy -

Series 4

Gender:
Female
Species:
Rabbit
Clothes:
Ugly Shirt
Sign:
Gemini
Phrase:
li'l hare
Password:
aJpliSZqVA7L#9
IIwfZFWlziVR2S
Profile:

 
Pippy knows how to turn up the heat with a good loud beat! Every time she gets a new K.K. Slider song, she invites friends over to listen to it on her new High-End Stereo.
Happy Home Designer amiibo Card

[

edit

]
Animal Crossing amiibo card

Card back

#267 Pippy -

Series 3

| | |
| --- | --- |
| Type: | Rabbit |
| Star sign: | Gemini |
| Birthday: | June 14th |
| Dice value: | 4 |
| Hand sign: | Paper |
Gallery
[
edit
]
Names in other languages
[
edit
]
ロッタ


Rotta

Lotta

---

로타


Rota

Lotta

---

罗塔

 (iQue)
Lín lín

-

---

Пиппи


Unknown

---

Pippy

-

---

Lotta

From Charlotta, meaning "The Powerful"

---

Méloni

-

---

Nadia

-

---

Pippi

-
ロッタRottaLotta로타RotaLotta罗塔Lín lín-UnknownUnknownUnknownUnknownUnknownUnknownUnknownПиппиUnknownPippy-LottaFrom Charlotta, meaning "The Powerful"Méloni-UnknownUnknownNadia-UnknownUnknownPippi-UnknownUnknown
↑ Called Mint Gingham Top prior to New Leaf