Peggy
Jump to navigation
Jump to search


Species
Personality
Gender
Pig
Peppy
Female
Birthday
May 23rd
Quote
"We're all diamonds in the rough."
Catchphrase
"shweetie"
Clothing
Blue-Stripe Tee[nb 1]
Aran-Knit Sweater (Red)[nb 2]
Main appearances
Other appearances
Name in other languages


 ちえり
 체리
 Sally
 Quiekie

 千惠
 Rose
 Peggy
 Peggy

 千惠
 Rose
 Peggy
 Пегги

Phrase in other languages


 ぷるる
 아앙
 oink
 glotz

 弹弹
 fleur
 trufita
 knorrelief

 彈彈
 fleur
 trufits
 хрюмпатяга
Peggy is a peppy, pig villager from the Animal Crossing series. She originally appeared in the Japanese-only Doubutsu no Mori e+, then returned in Animal Crossing: City Folk after being absent in Animal Crossing: Wild World. Peggy's name is a corruption of "piggy", an extensive, childish alternative of "pig", her species.
Characteristics
[
edit
]
Appearance
[
edit
]

Peggy is a cheerful-looking, peach-colored pig with short red hair and wide, blue eyes with black eyelashes. She has a large smile with rosy cheeks at the ends. Peggy looks similar to Curly, another pig villager.
Personality
[
edit
]
Below is a brief description of the peppy personality. For more information, click here.
Peggy is a peppy villager, acting excitable and outgoing, which allows her to get along with the player easily. Peggy is also somewhat airheaded, and will sometimes speak random sentences on random topics, and will use words like "sooo" and "totally", making her the annoyance of cranky villagers, whom she will call "old" or "boring". Despite this, Peggy is still popular among other villagers, particularly jock, normal, lazy, and other peppy villagers.
Preferences
[
edit
]
In City Folk

[

edit

]
Favorites
Clothing
Fancy
Cool
Furniture Genre
Trendy/Playful
Furniture Series
Cabana
Furniture Color
Blue
Ideal Furniture for Peggy – Blue Trendy/Playful
https://dodo.ac/np/images/0/06/PeggyPicACNH.pngUnknownUnknownUnknownUnknownFancyCoolBlueUnknownUnknownUnknown
In New Leaf

[

edit

]
Picture
We're all diamonds in the rough.
Biography
Siblings
Youngest of five
Skill
Stomping around
Goal
Movie star
Fear
Monster Mask
Favorites
Clothing
Sporty
Official
Color
Blue
Coffee
Type
Blue Mountain
Milk
A little bit
Sugar
One spoonful
Ideal Gifts for Peggy – Blue Sporty
https://dodo.ac/np/images/0/06/PeggyPicACNH.pngYoungest of fiveStomping aroundMovie starMonster MaskSportyOfficialBlueBlue MountainA little bitOne spoonful
In New Horizons

[

edit

]
Ideal Gifts for Peggy – Blue / Red Cute and Active Items
https://dodo.ac/np/images/0/06/PeggyPicACNH.pngUnknownUnknownUnknownUnknownUnknownUnknownUnknownUnknownUnknownUnknown
Peggy's House in Doubutsu no Mori e+ is the same as Gabi's, except she now has the Tartan Wall as her Wallpaper and the Ceramic Tile as her choice for flooring. Her favorite song is also different from Gabi's house, where Two Days Ago plays on her Turntable.
Peggy's house in City Folk has the Tropical Flooring and the Tropical Vista Wallpaper. Her house has a beach theme to it with K.K. Bossa playing.
Her house in New Leaf has again changed. While she still listens to K.K. Bossa on her Turntable, she goes back the Ceramic Tile as her flooring, except now she has Wood Paneling as her wallpaper.
In New Horizons

[

edit

]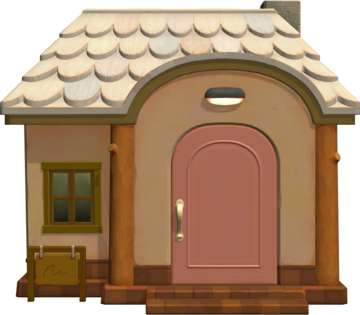 Other appearances
[
edit
]
In Happy Home Designer

[

edit

]
Happy Home Designer House Info

Peggy

| | |
| --- | --- |
| Type: | Peppy Pig |
| Client's Vision: | A mermaid's life |
| Required Items: | Mermaid Bed, Mermaid Dresser |
| Favorite Song: | K.K. Bossa |
| Favorite Saying: | We're all diamonds in the rough. |
Card profiles
[
edit
]
Animal Crossing amiibo card

Card back

#365 Peggy -

Series 4

| | |
| --- | --- |
| Type: | Pig |
| Star sign: | Gemini |
| Birthday: | May 23rd |
| Dice value: | 5 |
| Hand sign: | Paper |
Gallery
[
edit
]
Names in other languages
[
edit
]
ちえり


Chieri

Chérie

---

체리


Cheri

Chérie

---

Peggy

-

---

Rose

French given name and reference to her pink (rose in French) skin colour

---

Sally

Probably for assonance with "salame"
ちえりChieriChérie체리CheriChérieUnknownUnknownUnknownUnknownUnknownUnknownUnknownUnknownUnknownUnknownPeggy-UnknownUnknownRoseFrench given name and reference to her pink (rose in French) skin colourUnknownUnknownSallyProbably for assonance with "salame"UnknownUnknown