Blathers's Treasure Trek
From Nookipedia, the Animal Crossing wiki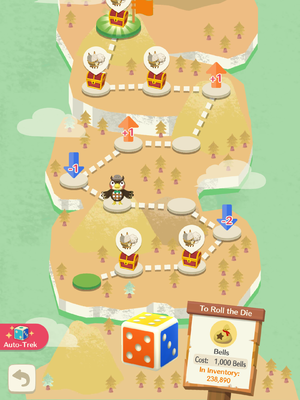 Blathers's Treasure Trek is a minigame in Animal Crossing: Pocket Camp where the player can win items and villagers with the use of maps.
In Blathers's Treasure Trek, the player chooses a map, then Blathers appears on a game board. The player rolls a die to have Blathers move, collecting items along the way. Rolling the die costs a certain amount of an item, and if Blathers makes it to the end of the board, the player wins the item or unlocks the villager on the map. Alternatively, the player can use auto-trek by using the items in their inventory or spend Leaf Tickets to automatically clear the board.
Map types
[
edit
]
The following is a list of the various different maps the player can obtain.
Type
Quality
Cost
Rewards
How To Obtain
Material Map
Normal
 1,000 Bells
20× Crafting Material

Completing villagers' requests
Balloons

Essence Map
Normal
6× Crafting Material
30× Essence Bottle

Completing villagers' requests
Balloons

Bell Map
Normal
3× Friend Powder

 5,000 Bells

Completing villagers' requests
Balloons

Villager Map
Gold
12× Villager's theme essence
Specified Villager

Received from Gulliver on certain gold islands

Leaf Ticket Map
Gold
 30,000 Bells
 10 Leaf Tickets

Obtained as a reward from certain events
Received from Gulliver on certain gold islands

Lotsa Leaf Tickets Map
Gold
 50,000 Bells
 30 Leaf Tickets

Obtained as a reward from certain events
Received from Gulliver on certain gold islands

HH Material Map
Gold
 10,000 Bells
3× HH Material


Obtained as a reward from certain events

Reissue Material Map
Gold
 50,000 Bells
5× HH Material


Obtained as a reward from certain events

Sparkle Stone Map
Gold
 50,000 Bells
1× Sparkle Stones

Buncha Bells Map
Gold
15× Friend Powder

 50,000 Bells

Completing villagers' requests
Balloons
Villagers
[
edit
]
The following villagers can be unlocked in Blathers's Treasure Trek:
(Note:

Teddy's map can only be obtained as a gift after receiving the very first map and clicking on Blathers.)
Names in other languages
[
edit
]
フータの探検スゴロク


Fūta no tanken sugoroku

---

부엉의 탐험 주사위


bueong-ui tamheom jusawi

---

傅達的探險雙陸遊戲


Fù dá de tànxiǎn shuāng lù yóuxì

---

Eugens Schatzreise

---

mapa del tesoro

---

L'aventure de Thibou

---

Gioco del gufo